One word:
FUN!
Monday afternoon, I went to town putting these gorgeous little bombs together.
Tuesday morning, we took Zenin to school & while he was there, Kurt, Joel & I ran errands droppin' bombs as we went!
Could you imagine finding one of these? I beam just thinking of who will & maybe it was just what they needed to receive that day. Love.
I created some magnets on Zazzle from the images I've been creating for here & on Facebook… I hadn't planned offering them to you until they came in the mail & I saw how AWESOME they are!
You can check them out here :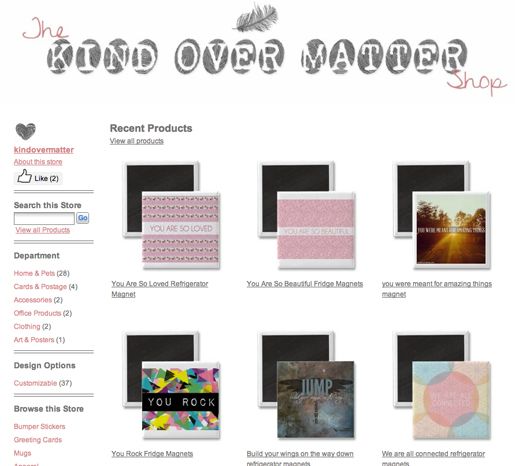 Kind Over Matter Shop
So this is how this Zazzle thing works:
When you order from them, they make & ship the product & I make a small percentage of each sale.
The incredible thing about this is:
All the money made from sales will stay in my Zazzle account & I'm going put it back into buying products to use in future kind bombs! Plus! You can either keep these little beauties for yourself, give them as gifts (or to accessorize a gift or greeting card) or use them in your own Kind Bombs!
My head has been spinning on how & where else to drop these sweet little bombs…
Like sending them in the mail to folks who need a pick me up, dropping them in front of small local businesses to let them know that they rock, dropping or sending them in bulk to schools for their rockstar teachers/students, cancer centers, doctor's offices, hospitals, bus stops… & so on!
I plan on expanding the line to notebooks, jigsaw puzzles, keychains, greeting & post cards + more, all the while adding more designs as I create them!
Maybe as this grows… I can do bigger things for people with bigger situations. That makes my heart smile so big.
If you missed the first Kind Bomb post & you'd like to learn more about them, check out this post!
Have you been droppin' bombs? I'd love-love-LOVE to see, you can add your photo links below!
Go out, leave some awesome around town & report back with a blog post link including your photos &/or story, a Flickr or Instagram link, a URL to any photo on the web (just as long as it's yours!) will work!
They don't have to be KOM Bombs specifically, they can just be gifts left with a sweet note, you can craft your own note or use KOM's freebies in the bombs or just use the printables by themselves, or the tab posters, anything goes!
This widget will stay open to submissions until the next Kind Over Matter Bomb post goes up! (Pssst… if you randomly found this post, click here or check out the sidebar, find the little KOM Bomb, click it to get to the latest post!)
document.write('
Related Posts
If you enjoyed this, you might also enjoy these
Comments