Guest post by Jo Anna Rothman.
(This is Jo Anna's first & most loved post on KOM, originally published on 9/21/11)
In Support of Curves
Today, I will love my curves. Because I have them. Because I am them. I am the swell of the hip and belly. The meandering lines of the my waist. The voluptuous arc my breasts. Even the sweet turn of my shoulders and neck. I am that never ending ride from top to bottom and back again. A labyrinth of the flesh.
Today, I will love my curves. In doing so I honor the girlywomanfeminine that I have chosen to embody. I honor the all encompassing energy that is earth shaking and forever nourishing. I honor the receptive powers of my nature. The divine vulnerability and the great strength it requires.
Today, I will love my curves. Every single one of them. The ones that I have cultivated. The ones that I have shamed. Even the ones I forget exist. I will love them all. And the way they have supported me. Caressed my very being. I will own them, hold them, touch them as a lover would. Because I am the greatest opportunity for love that I know.
Today, I will love my curves. I revel in the gravitational pull they hold. And know magic that is created in their movements. I allow myself to be seen. To let the eyes of the world find me and drink me in without shrinking in fear. To be visible. To be desirable. To be me. Wildly. Pleasurably. Totally.
Today, I will love my curves because I have not always. There were days of wishing them away. Sucking in. Praying for less while devouring a cupcake. Because I owe myself for the lack of appreciation of my ampleness. And I choose to love what is rather than pine for something that is not. Today is a day of worship of the miraculous physical landscape that is my body.
Today, I invite you to do the same. Love the dips, turns and winding roads of your form. Acknowledge the beauty that couldn't come from anyone else but you. Put down the sword of nasty judgement in all of its forms and fall in love with the real world expression of you. Today, you can love your curves.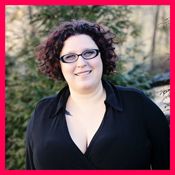 I'm Jo Anna. Jo Anna Rothman, MA if you are being fancy. I'm a Wizardess of love. Mistress of change. Conjurer of Electric Creative Wholeness.
I am here to invite and inspire you to live the best human experience ever. I connect folks to their soul, their purpose, their absolute and amazing joy. I coach. I write. I facilitate the amazing Receiving Project.  Most of all, I have a damn good time!

To read more of Jo Anna's guest posts on Kind Over Matter click here!

Kind Over Matter will be highlighting posts from the archives leading up to an exciting announcement the week of the 16th! Stay tuned, lovelies!