Post by Tara Leaver for the Kindness in Business series.

by Tara Leaver
The Lost Girl And The Magic Map: A Story About Finding Your Heart's Desire
"Take the next step in faith. You don't need to see the whole staircase."~Martin Luther King, Jr.
I'm going to tell you a story. It might sound familiar.
Once upon a time, there was an intelligent and infinitely curious young woman who persistently seemed unable to follow the map offered to her by the life she was born into, privileged as it was in many wonderful ways.
She didn't seem interested in what the others wanted to do. The limited range of moulds presented to her felt uncomfortable and stifling, and the maps suggested for her to follow seemed to be written in a secret code she simply could not decipher.
She did her best to adapt, to follow routes already laid out by those who'd gone before her, and those who loved her and wanted her to be happy. But they had maps of their own and they didn't know how to deviate from them.
From time to time she found work that she enjoyed, but mostly it felt wrong, and there were many dead ends. She gained an unspoken reputation for being directionless.
So she flitted from job to job, trying this and that, carried forward by her curious nature and the unspoken knowing, even to herself, that there was Something Else for her.
The pressure to follow the maps she was given took a toll. Clinical depression was finally diagnosed. After many years of secretly feeling there was something very wrong with her, this brought some relief, but not healing.
A dark night of the soul descended.
Years of trying to be good, to do what was expected, and a succession of therapies and medications that never seemed to work all had to be let go.
All the stories about hitting rock bottom turned out to be true. When you hit the bottom there really is nowhere else to go but up. Our heroine began to sit up and open her eyes, blinking in the light of this new world where everything looked the same, but wasn't.
She surprised herself with hidden reserves of strength and determination. She found healing in the form of energy practices from the East, a loving and wise mentor, and, most importantly, from the creative spark she'd held inside always, the one that wanted to be an artist.
The spark had been dormant for many years, but it can never be extinguished completely, and so she set about following its lead, allowing it to teach her to draw her own map.
She discovered that tracing the terrain of unknown territory, without knowledge of the tools you need, or experience of how it's done, is a uniquely terrifying and liberating process.
As her strength returned, she gathered information and experience in the things that made her heart expand. She dreamed of combining what she loved most – the energy and healing work she was learning and her art and creative spirit – in a way that would enable others like her to draw their own maps. She wanted above all to give something back for all those who had helped her stumble forward through the dark times.
Learning to accept that knowledge doesn't always come before experience, she mustered as much trust as she could that even though she didn't know how that dream would manifest, it surely would, if only because there was nothing else that worked. So she kept going; learning, gathering, experiencing, sharing, step by step by step.
And gradually a map started to form.
It wasn't like the maps of her previous life. For one thing, it had a magical quality; it could be adjusted through a process of trust and experimentation. It was a sometimes confusing combination of revealing peaks and valleys, forests and deserts that were already there, and creating the path she walked simply by taking each step forward.
It looked like no other map ever created. It contained secret oceans of triumph and hidden caves of despair. Treacherous looking mountains often shrank to molehills on closer inspection.
Today, our heroine is not the same young woman she was all those years ago. She still stumbles, sometimes falls, but she understands now what is required to continue to create and decorate this beautiful map she has made.
She is, of course, me. But if you are reading this, she may also be a little like you. I cannot sum up for you the how of your own journey, but some things I've learned are universally true.
Allow yourself to break open. If you're going through something that feels like it might break you, consider letting it. And that will be the best thing that ever happens to you, IF you take it as the opportunity it is to create yourself and your life map anew.
Find a comrade. It's not possible to do this journey alone. Find a healer, a mentor, a person whose wisdom and compassion will carry you when you can't carry yourself.
Do it yourself. As paradoxically true as the previous statement, ultimately, you journey alone. It will be the hardest thing you've ever done; mapless territory with a guide you don't know yet. It's true though that the deeper the valley, the higher the peak.
Let the doubts be. You may be absolutely certain that you cannot do the thing you want most; you're not knowledgeable enough, confident enough, whatever enough. Compelling but false. Your path is created by you walking it, and you can do it with doubts along for the ride.
Let the terrain guide you. It's not a straight line; the road is winding and full of forks and diversions. There are steep drops as well as summits. Dead ends, wrong turns and swamp filled valleys are always more than they seem, if you take the time to look closer.
Stick with it, brave heroine that you are. You've read all the inspiring quotes, heard all the success stories that sound like they only happen to other people. Those people drew their own maps. That's what I'm doing – fears, doubts and all. I'm not special. Anyone can do it. Including, and especially, you.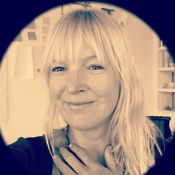 Tara Leaver is a writer and artist exploring the exciting possibilities of paint from her home studio based in Brighton in the UK. As an artist, energy worker and creative guide, Tara uses her experiences with making art, her intuitive gifts and her knowledge of energy healing to encourage and support courageous souls to rediscover their creative selves through art. Her signature ecourse, Creative Spark, is helping people reconnect with their long lost inner artists, and will run again in February 2014.