Post by Liv Lane for the Kindness in Business series.
Shedding Shame: The Beauty of Affiliate Marketing
Exactly six years ago, I jumped off the corporate ladder and threw myself an Independence Day party – thrilled to be working on my own, doing what I loved. But it didn't take long to realize that independence doesn't fuel success for entrepreneurs; collaboration does. I don't know where I'd be without the global community of online creatives, healers and coaches I've learned from and gained support from over the years.
But one of my favorite forms of collaboration often gets an undeserved bad rap: affiliate marketing. See, I keep seeing tweets, blog posts and status updates where kind souls promote a person or program they love – but then go out of their way to add something like this: "Don't worry, I'm not an affiliate; I just really love/support this person's work and wanted you to share it with you."
Whenever I see a statement like that, a wave of shame rolls over my heart and it takes a few beats to recover. Yes, those kind of genuine, glowing endorsements are an entrepreneur's dream. But at the same time, they inadvertently imply that testimonials coming from those who are using affiliate links – including me – may not be as genuine or pure in their praise.
There is no shame in making money promoting a person or product you adore. In fact, when done right, I believe affiliate marketing is actually a perfect example of kindness in business.
Here's how it works. Anyone with an online presence can earn commissions when one of her friends or followers purchase a product that she's promoted online. For example, I'm leading a new personal growth ecourse next month, The Art of Choosing Beauty, and Amanda is a long-time affiliate of mine. See that link to the course? I have affiliate marketing software that placed a unique code inside the web address and will track each time one of Amanda's Kind Over Matter readers clicks the link and signs up for my class. Whenever that happens, I happily send Amanda a 25% commission ($11.75 of the $47 class). And Amanda does the same for me when one of my peeps finds their way to her awesome products through my affiliate links. It's a beautiful thing.
Are there sleezeballs who abuse the system? Sure. Are there folks who will promote anything and anyone just to make a quick buck? Of course. Personally, I choose only to be an affiliate for people and programs when I know and trust them, I've been a content contributor, or I've personally benefitted from them. I suspect and hope the same is true for the affiliates who promote my work, too. We're like trustworthy referral services for our readers and clients, sharing the programs and people we think they'd benefit from knowing, too.
Through affiliate marketing, we're helping each other reach new audiences of our ideal customers (many of Amanda's readers are a great fit for my work and vice versa, for example). Most online entrepreneurs can't afford big-budget ad campaigns or PR firms to spread our message – and besides, we'd much rather have authentic endorsements of our work from people who love it! Whenever I send commission payments to my affiliates, I feel a surge of gratitude for their support, and happiness about being able to contribute – even just a tiny bit – to their dreams, too.
So, let's stop feeling sheepish or shameful about affiliate marketing. Let's support each other in this strategy and celebrate the chance for everyone to benefit from lifting each other up. It's the perfect opportunity to practice kindness in business.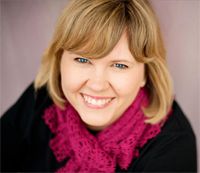 Liv Lane calls herself a Human Sparkler, devoted to helping women define and ignite their inner sparks – the traits, talents and passions that light them up from the inside out. As an artist, mentor and motivational speaker, she's particularly passionate about empowering youth advocates and heart-based entrepreneurs & creatives, providing a blend of practical and intuitive guidance to magnify their potential. Find her online at LivLane.com.