Post by Pippa Best for the Kind Kindred series.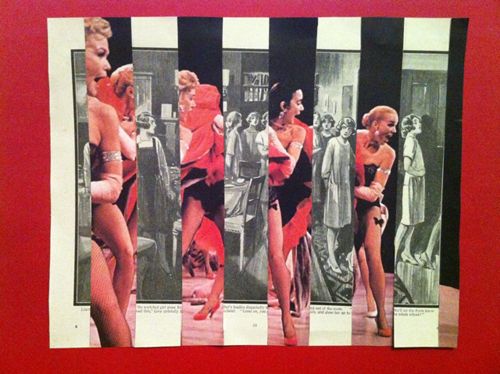 Mama Mash-Up by Pippa Best
High-kicking Shame-busters
Motherhood knocked my identity right out of me. I had always been defined by my work, my achievements, but now there was just me, a baby, and a screaming set of unrealistic expectations. I was hard on myself, striving for impossible perfection, unaware that perfect parenting is a myth based on book sales and the stories that we don't share for shame.It wasn't until I started to practice creative kindness and make time for me that I started to slip back into my skin. Into a looser unfamiliar body, all the more miraculous for bearing children. And into a mind forever changed by little people leaving lego in my heart. Mothering my children gave me the gift of free play, first with them, and then with myself. Motherhood taught me that I don't need to be perfect, I simply need to be the best me for them.The best me means being kind to myself, taking time to play, and practicing creative kindness with others. It means making mistakes, and failing, and falling down and getting up again. My mum and I birthed Storyofmum.com to support other mothers on our journey to re-find ourselves amongst the mess.Each time I've created a new creative activity for our growing community, I've pushed my boundaries a little further, stepping over each barrier arm in arm with my online mama friends.At Story of Mum, we let go of mum guilt, reframe photos of our domestic chaos as art, pop Balloons of Shame, and tell the stories we've never told in public. When our Love Mum Body series shared photos (and plasticine models) of the parts of our Mum Bodies we'd like to love more, I went from baring my floppy belly online to doing naked can-cans at bath-time.Now we're creating a real life exhibition celebrating the dark and light of motherhood: Story of Mum: Mums making an exhibition of ourselves. We're telling our stories in doodles, in photographs and poetry, in baked pie charts and knickers on a line. We share the miracles, the tragedies, the challenges and the joy. Our vulnerability and wisdom. Our diversity and strength. We're taking our stories into galleries across England, culminating with an exhibition in the Museum of Motherhood in New York. From June to August, mothers are also curating their own mini online exhibitions to share our stories. Amanda has kindly let me share one of my own right here. We welcome any mum worldwide with a story to share.My Mama Mash-UpInspired by Suzi Banks Baum, one of our interactive exhibits encourages mums to make Mama Mash-Ups that combine two images as different aspects of our identity.I made my collage instinctively. Stepping back to see it up on the wall, I wonder what it says about me and my identity as a mother right now.The first image is a picture from a 1930s Schoolgirls' Annual, black and white. The kind of girls' boarding school story I devoured in my youth. A teenage girl is being shunned by a group of fellow students. Words and phrases grab me in the gut: 'wretched girl alone' 'spitefully' 'disgusted' 'out of the room' 'show her up to the whole school!' There is tension, cruelty, the dark side of girls together.The second image is a vibrant line of shouting dancers in red, all fish-nets, heels and flouncy skirts. Powerful, joyful, creating something bigger by coming together. Each beautiful, distinct yet stamping in sync. Front room discos after tea may have replaced nights out, but dance is still my favourite way to connect with my body and free my soul.There is brazen sexuality, temptation in the second picture, buttoned-up restraint in the first. One is silent, one noisy. Spliced together they echo the conflicting voices within me. One voice that says you're not good enough, you should be ashamed, no-one could ever like you, hide away. And another, getting stronger every day. It yells celebrate the miracle that you are, your power, your friends, believe in yourself and wear the red dress, stamp your mark on the world.Childhood leaves a long legacy. I still hear a voice I've been fighting for 30 years. How can I protect my children from those inner taunts? How can I give them that bold brave voice to cheer them forward instead?Unlike the darker experiences of my childhood, motherhood has shown me the positive power of women when they come together. It has made me the deepest of friends to share the bravest of my soul-searching. It has gifted me with creative kindness, and a freedom to question the ways I live my life and why.Motherhood has given me the precious realisation that I can only give my children those high-kicking shame-busters by becoming a high-kicking shame-buster myself.
Life is a constant plate-spin of my work as a script editor and project manager alongside intuitive mothering of my two children. My out-of-hours passion is StoryofMum.com, an online interactive community of brave supportive mamas doing uplifting thought-provoking slightly silly creative things together to celebrate the ups and downs of motherhood. I live with my surf-obsessed husband, hilarious son and daughter in a chaotic house in Cornwall, UK. Things that make me feel good: the sea, chocolate, zumba, yoga, and puddle-jumping. Connect :: Website :: Facebook :: Twitter :: Pinterest ::