Post by Tangerine Meg for the Kind Kindred series.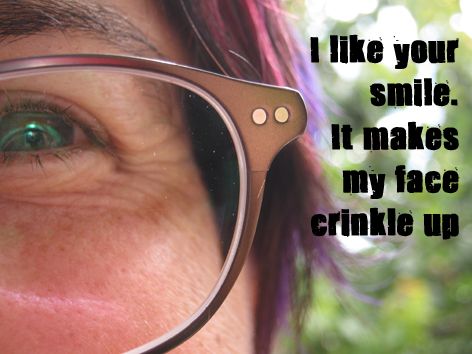 The Old People Lesson
We landed in Adelaide when I was 7 and my parents promptly enrolled me in wonderful art lessons that family friends had recommended. My main teacher – later my mentor – was a small, vibrant lady, probably in her 60s at that time. I and the other children were rivetted by her old hands drawing and painting each week – such skill and assurance!
One of the many memorable art lessons Ruth taught was the "Old People Lesson". She would have us think about a grandparent or perhaps an old person we'd seen on the bus. Ruth used herself as an example too. If asked her age, she'd say with a twinkle in her eye "Oh, I'm very old".
Sometimes when they dropped us off, our parents would stay for a while to watch the demonstration; though often for the Old People Lesson they would admit they didn't want to know and find errands to run!
Ruth encouraged us to draw the traits of ageing, talking about:
• How our skin is affected by gravity and has been draped over our skull for oh so many years

• "How many times do you think Old People's noses have breathed? It's no wonder our noses grow bigger"

• "What colour is old people's hair?" Ruth would ask. White? Grey? Bald? Old ladies who dyed their hair pink or blue

• Old men's eyebrows – long and wild. What about the old ladies eyebrows? She told us conspiratorially, almost whispered "I think they pluck them"

• Bags under the eyes, 'crows feet', laugh lines, ageing spots

• Daubing red paint lipstick on our old ladies lips
My young self had not the life experience to feel confronted by these aspects of ageing. After being exposed for the first time to this wonderful art lesson, and lucky enough to still have some of my grandparents, I took the time to notice their intricate wrinkles and faded hair and wise shining eyes. Observing with new light unruly eyebrows or ear hairs!
Magazines and TV or whatever, in the interests of their business, might try to make me to feel I ought to have smoother 'younger looking' skin or need to dye my greying hair. I dye my hair all right – not because it's greying – because it's not pink! I am fascinated by my changing hair. Happily, my hairdresser and I agree on a Bleach and Vibrant Colour plan of action!
I have many issues I am working through regarding self acceptance – too nebulous to go into here! Wrinkles on the face however, are not an issue. I welcome and am fascinated by them as they appear to greet me. I feel blessed to somehow understand their beauty. Besides a lasting respect for my grandparents, perhaps my creative, energetic role model made the difference?
PS I admit to plucking my eyebrows – actually an expert friend does it for me. Now I need to get myself a paint red lipstick!
I'm Tangerine Meg, delighted to meet you! Stop by my site to download free stuff! Right now there are special bookmarks and a Reading Girl Bookplate image available, guaranteed to brighten up any personal library. I'd love you to join me on this curious journey as Bold Life and Bold Art unfold. The best way is to sign up for my monthly-ish eNewsletter. You can also find me on Facebook or share beautiful things with me on Pinterest.