Post by Jo Anna Rothman.

print by Crokart on etsy
An Ode To Life
To life!
To the great, grand human experience we get to play in.
Make no mistake, to embody in this realm is a privilege. It is where all the hip and happening ones want to be…running in this playground of creativity. Where there is the feeling of the wind on our skin. Where there is sex. And chocolate. And ruby slippers to dance around the world in.
It is messy. Dirty. Wild. Beautiful. Perfect in a way that exists beyond what my words could ever say.
It is easy to dismiss life. To take it for granted as something we all have to do every day. But each moment is a precious chance to rock out. To open your heart. To put it all on the line and reap the gifts that rain down from the heavens.
Yes, it can be sad. It can be maddening. There is not always the rhyme and reason we pray for. Life happens outside of the limits of our minds. So much takes place in the mystery. I don't know the whys of why things happen the way they do. I do know that each moment, no matter the depth of pain that courses through us, offers a chance to stand in the fullness of our loving. To connect to others in ways that set off the fireworks of our being. And, if we are lucky we will get to see the radiance of our heart reflected back in each and every person we encounter.
In the throws of the human experience we can find who we are. We get boogie down in the illusion of separation only to discover all is one…and we continue to dance. Because in this discotheque there is beauty. There is wonder. There are possibilities that stretch into epic and eternal delights.
There is risk. Yes. Because of the supernatural impermanence, love can appear as lost. Yet the fragile nature can bring forward desire like nothing else. And desire is the soul booming its call of adventure through the flesh and blood of our mortal place. It is here, in this life we inhabit, that we get to shine. That we get to make something out of this world. We can curse the pain and fragility, or we can love as big as we are willing and live electrically.
I'm a fan. Of living. Of the human experience. Of all its plateaus. Its twisty-turney roads. Its surprises. Its opportunities. Let's take a moment and honor the game. And honor ourselves as the player who once upon a time opted in. It took an act of courage, daring and a deep yearning. It took us wanting to be us in the most magnificent ways possible. I, for one, am going to enjoy it.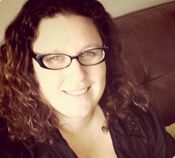 Jo Anna Rothman, MA is an intuitive coach and facilitator of The Receiving Project. She revels in assisting people in falling in love with their lives. She is committed to living a life full of pleasure, purpose and enthusiasm. And perhaps most important, she knows the secret to the perfect s'more.
To read more of Jo Anna's guest posts on Kind Over Matter click here!