Post by Sherry Richert Belul for the Kind Kindred series.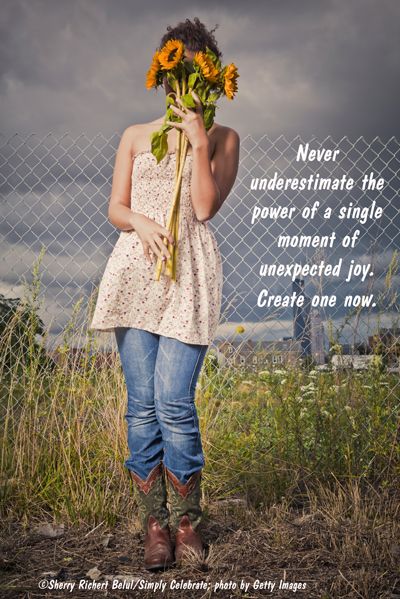 The Kindness of Strangers
There's a famous line from a Tennessee Williams' play, A Streetcar Named Desire: "I have always depended on the kindness of strangers." If you're familiar with the play, you know that the line is spoken by the colorful character, Blanche DuBois, as she is being led away to a mental hospital — by a very kind doctor.
You might also know that there's a deep sadness and decay connected to the character of Blanche DuBois. But she speaks — and feels— a great truth: that a singular moment of kindness shared between strangers can have a profound effect.
For the past six months, I've been fascinated by this idea of kindness to strangers and the effect it has — not, as you might guess, on the recipient, but rather, the effect it has on the person offering the kindness.
The 48-48-48 Project
My exploration of this concept started last October, when I turned 48. Birthdays can often be loaded for me. When I was little, they never felt very special and it seems like now I often I have these huge expectations of how they should look and feel. That can lead to disappointment. Then on the other side of the coin, sometimes I get so much attention that it feels like an embarrassment of riches and can be hard to receive. It is tricky. It can feel like a lot of pressure and expectation — never a good formula for being present and living in joy!
This past birthday, I knew I wanted to get the attention and focus off of me and on to something else I cared about. Fortunately, the week before my birthday I had been on a meditation retreat. My teacher, Cheri Huber, had used the expression "unrelenting kindness." I'd been turning the expression over in my mind and holding it in my bones. So I think that is why I wanted to celebrate my birthday differently, with a focus on kindness to others.
Lo and behold, the idea dropped in that I could offer 48 acts of kindness to 48 people in 48 hours. As soon as life gave me the idea, I was hooked. I posted on my blog and email list, asking people if they knew anyone who needed a little extra kindness.
I heard from people whose husbands had lost their jobs, whose daughters were going through a difficult divorce, whose teenage children were struggling with friends, academics, or romance. I heard from a poet whose daughter had flubbed a music audition and from someone whose recently-widowed mother was really lonely.
As the emails poured in, I quickly realized that each of these notes was a gift to me. Every one was a heart-to-heart connection that felt real and alive in the moment. Also, I saw that I had the opportunity to respond with kindness to each of these loving folks who were in pain because someone they loved was hurting. Those were the first gifts of the project.Choosing how to respond to each individual was one of the most magical aspects of the project. When a request would come in, I would sit quietly with my eyes closed and just try to connect with the person who needed kindness. I would imagine what they were feeling and I asked the universe to guide me in knowing what to do/say/offer. It just seemed clear. Someone going through a tough divorce might like the book, Broken Open by Elizabeth Lesser. Someone recovering from surgery might love some chanting of the Dalai Lama. Another person might just welcome a warm audio note from a stranger, maybe a poem included. I truly just let the moment dictate what felt appropriate.
The Gifts of Giving to Strangers
I quickly started to experience more gifts from this 48-48-48 project. One is, I was completely BLISSED out for the entire time I was doing it. There's a saying that "the more you give; the more you get." Well, every audio note or poem or card or book I sent, I got filled more and more with joy.
Secondly I really got it that when I need love, all I have to do is reach out and OFFER love. The world really is our family. Within minutes, it is possible to feel so connected to someone and really care about them.
Another thing is this: we just don't know what impact our lives will have on others. One of my favorite things about this project was that I got a note from someone who told me she was so inspired by what I was doing that she got an idea to do something similar for her mom's birthday. She put a call out to Facebook and to all her friends asking if they'd send her mom birthday cards for her 64th birthday. She wanted her mom to receive 64 cards on her 64th birthday! Her mom was absolutely blown away by all that love from strangers!
Rinse and Repeat Often!
The last, and most long-lasting, gift from this experience is that I learned how simple it is — and how replicable. On The New Black Friday, a name I coined for turning Black Friday on its head and getting folks to stay home and make Love Lists as gifts, I offered a free audio love-gram to anyone who wrote and told me that they made a Love List. So again, I got the chance to connect with a group of strangers in a lovely way. When Valentine's Day rolled around, I sent a note to my email list: did they know anyone who might be feeling lonely or who was grieving? That day I connected with 14 strangers and I poured my heart out in audio notes, letting them know they were loved and cared about.Each time I've done something like this, I've hoped that it has a positve impact on all these strangers. But just like with the 48-48-48 Project, any time I've opened myself up to ways to create joy for others, it has created an ocean of joy for me. I have this saying I love to use, "The payoff is in the moment." These acts of kindess to strangers are the perfect example of that!
Will You Join In?
And now, I have the chance to offer kindness to strangers again. This time, I want to invite YOU along for the ride. You game?
Today, April 29, happens to be a holiday called "Plant a Kiss Day." I started this holiday last year for Amy Krouse Rosenthal as a celebration for her book launch for an inspiring and whimsical book called "Plant a Kiss."
At the urging of a group of 4th graders in Cleveland, Ohio, who wanted to participate in Plant a Kiss Day, I decided to organize the event again this year. Those 4th grade girls are all out in the world, spreading joy to strangers as we speak. As well, close to twenty women bloggers are all planting their own kisses and will be writing about the experience on their blogs, to be posted on May 1.
Whether you're a blogger or not, I'd love for you to join in! There are a few ideas below of simple things you could do today to bring a little unexpected color, joy, magic, or connection to a stranger. And of course, you can think of your own ideas, too!
Just to remind you that the scope of what you do isn't what is important. It is the intention and the consciousness you bring to it. So, for example, posting one piece of colorful art in a public restroom could take you just a few minutes, but if you are present to what it feels like to intentionally want to bring joy to strangers, the impact can be really powerful — for you and for the unknown folks who will be touched by it.
Some REALLY Simple Things with a Big Impact and Ripple Effect:
Printing out the KOM "Free Compliments" printable and posting someplace public.
Consciously letting someone in your lane while you're driving.
Buying a single flower and handing it to an elderly woman walking down the street.
Intentionally offering an authentic compliment to someone on the bus.
Bringing a basket of fresh fruit to work or the dance studio along with a cheery note.
Sending a thank you note to the clerk at your grocery store, your librarian, or the mailman.
Sending your child to school with flowers and a handmade thank you note for the teacher.
Playing an instrument, knitting, making art, or setting up a board game in public.
Purchasing a small gift card for iTunes or a local bookstore and leaving it with a card for a stranger to find.
Standing on a corner of a busy street and simply smiling at people and saying hello.
Creating "Fortune Kisses" with your kids and hiding them places for strangers to find 'em.
Tell us What YOU Did to Plant a Kiss Today!
Leave a comment below.
If you're blogger, you can link to our Blog Hop Party by writing a short post about your experience and linking it via Mr. Linky, a tool you'll see if you scroll down that page.
Visit the Simply Celebrate Facebook Page and share your experience there.
Celebrate!
I truly believe that what makes an extraordinary life is simply a series of extraordinary moments. What we're doing here is consciously practicing creating an extraordinary moment — for ourselves and for others. That's all. Let's not underestimate the power of a single moment of unexpected joy. Create one NOW!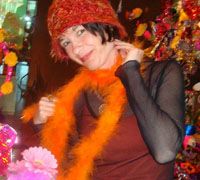 Sherry Richert Belul believes that in the midst of everyday life, it is easy to forget how extraordinary — and fleeting— our lives are. So she helps people celebrate who they are, the people they love, and the shape of their lives — even when none of those look the way anyone had imagined. Her company, Simply Celebrate, offers life coaching, inspirational books, and one-of-a-kind tribute gift books. Sherry is the author of Simply Celebrate: 101 Ways to Turn Ordinary Days into an Extraordinary Life and Present Perfect: 127 Creative, no-to-low cost, wow-'em gifts they'll never forget.