Post by Gennifer Carragher for the Kind Kindred series.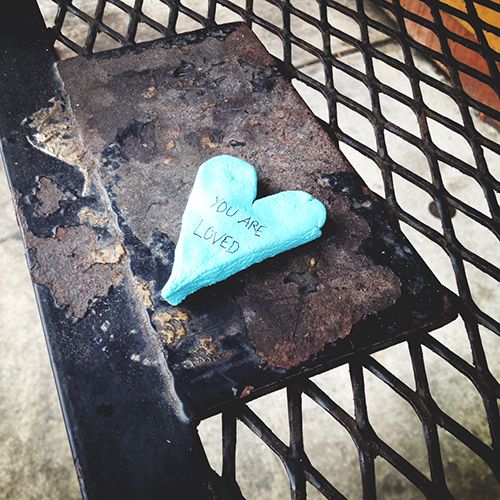 Kindness is the Cure for Depression
Last year was a tough one for me. Depression is something I've struggled with off and on for years, and last year it was more on than off. I knew I had to do something drastic when it got to the point that I began spending days at a time in bed, rarely leaving the house or talking to friends or family.
I knew that performing random acts of kindness had made me feel good in the past, so I decided to try doing that again in the hopes that it would lift my spirits.
Money was tight, with every penny I made getting re-invested in my business. I knew that I couldn't afford to pay for the person behind me at the drive-thru or hand out $5 gift cards to strangers on the street. I had to find a cheap (or even free) way to perform my random acts of kindness.
So this is what I did: I walked to a creek near my house and gathered a few dozen stones that had been washed smooth by the water. I took them home, painted them pretty colors and wrote inspirational words and messages on them. Then I left them in various spots around town, hoping that someone who needed to hear a few words of encouragement would find each one.
Even though I never actually saw anyone find the stones, I began to feel better. Instead of constantly thinking about all the things I was unhappy with, I found myself daydreaming about people smiling as they noticed my little stones. I was excited about the idea that I could spread a little happiness throughout the universe and hopefully make someone's day a little brighter.
A few months after I started my little adventures in kindness, I found out that one of my friends had been doing something similar with clothespins. (Great minds think alike!) So I began painting inspirational messages on clothespins as well as stones. Then I added feathers. Then salt dough. Then pinecones, twigs, and whatever else I could find! I loved the act of creating each object, thinking of just the right word or phrase to write on each one, then finding the perfect spot to leave it, giggling as I quickly dashed away.
I got so excited about what I was doing that on Christmas Eve I covered 99 varying objects with paint, glitter and ink. On Christmas Day I left each one in a different spot all over town.
By the end of the day, I realized that I had found the cure for depression! Or at least something I could do to make it easier to bear.
Performing random acts of kindness has now become my Zoloft, making my bouts of depression much more manageable. And the thought that people might be paying it forward makes me absolutely giddy! Imagine a wave of kindness spreading like wildfire, all because of a "selfish" desire to improve my own mood.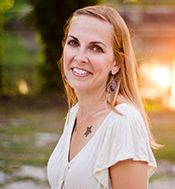 Gennifer Carragher is a blogger, adventurous photographer and barefoot wanderer on a mission to help people rediscover the incredible beauty and magic in this world. She creates programs and books that teach people how to become fantabulous photographers, enlightened observers and blissful spirits. She shares her adventures on her blog, The Red Road.