Post by Sherry Richert Belul for the Kindness in Business series.
The More You Give; The More You Get
Generosity as a path to success
When I first started my business, I remember being really discouraged at how little money I was making. Every time I looked at my bank account balance, I would wince and feel disappointed that things weren't happening as quickly (or abundantly) as I wanted. Even when sales started coming in more steadily, that didn't help. The bar kept getting raised for what amount of money was "successful." As long as the bank account was my measure of success, I never failed to fall short.
And then one day, I heard this phrase in my head: "Measure your success by the number of lives you touch." It was like this wisdom just dropped out of the sky as an enormous gift and guiding force for me. It changed everything.
To this day, years and years later, I often repeat that phrase to myself as a kindness mantra. It's my own touchstone, to always remind me of what is truly important to me: using my creative gifts in a way that supports others in celebrating who they are, the people they love, and the shape of their lives.
Do I want to earn a good living doing work I love? You betcha. But keeping my eye on the bank balance, always wanting to receive more didn't seem to serve that goal nearly as well as looking for ways I could give more.
So my suggestion of one of the biggest kindnesses in business is to measure our success by how many lives we touch, not by the number of dollars in our bank accounts.
Here are six simple ways I make that philosophy tangible day to day:
Schedule Kindness
Each morning when I wake up, I try to think of three people whom I could send a little joy or kindness to. Maybe a colleague has just launched a new blog, so I'll pop over and leave a supportive comment. Perhaps one of my clients has an anniversary so I send a cheerful card in the mail. Or maybe someone just finished writing her book and I can design a mock New York Times bestseller list with her book as #1? I try to do these kinds of things first thing in the morning because they never fail to leave me feeling energized and openhearted. Even if the other person doesn't receive this love until a later date, I feel the connection right away!
Your kindnesses don't even have to be for people you know! Recently I got the idea to celebrate my birthday by offering 48 acts of kindness to 48 people in 48 hours. I asked my readers to let me know of anyone in their lives who needed a little extra support and TLC. I got dozens of requests and my life was transformed by sending kindness to strangers. And — it was such a lovely way to connect to people who read my newsletter and blog.
Exceed Expectations
When I'm packing up a product to mail to someone I love to include a little something extra. It might be a pair of rainbow glasses they can hold up to the light and delight in the colors. It might be a little paper parasol to stick in their breakfast muffin or could be a colorful magnet. Another way to exceed expectations is to surprise clients with "extras" they didn't pay for. I love to send my coaching clients out-of-the-blue surprises — books I think they'll like or audio recordings to inspire them.
Lend a Hand
Ever since I first started my business, lots and lots of people have generously offered their time and advice to help me out. Not because they wanted anything back from it, but just because they didn't want me to have to reinvent the wheel. I want to pay that forward by helping people who come to me for assistance or resources. Rather than protecting my training/knowledge like a Tower of London guard protecting precious jewels, I want to share what I can with people and trust that by helping someone else out, I'm perpetuating a circle of giving that ripples out into the world effortlessly.
Shout about 'Em
One of the easiest ways to give, and it doesn't cost a dime, is to help promote teachers, artists, businesses that we love. We all know how glorious it feels to see that someone has written glowing words about our products or services on Facebook or Twitter. It can make our day, can't it? I try to consciously remember to speak highly of books, products, and teachings that have served me well.
Give Good Energy (Warning: Woo Woo California Inside)
Skip this one if you're someone who hates the mush and gush of West Coast woo-woo-ness. But listen, I swear by this. When I'm finishing up the creation of one-of-a-kind Celebration Book for someone or when I'm packing up some Simply Celebrate books to mail, I love to turn on music I love and create a really good-feeling space. I imagine the person receiving what they ordered and being so happy with it. I imagine that it brings them immense joy. I might dance around a bit as I prepare the box for mailing, so that when the products arrive, that love just flies out of the package. (You laugh! But I think they can feel it!)
Track the Boomerang of Love
The more I started thinking about the idea of measuring my success by the number of lives I touch and not by my bank account, the more I realized the obvious: I needed a "Love Ledger," a bank book in which I record the effects of the work I do. If someone sends me a thank you note by mail or email, it goes in my ledger. If I talk to someone on the phone and they verbally tell me a way in which my work has impacted their life, I type it up afterward, add some art, and put it in my book. Sometimes I print out Facebook comments, along with the profile photo of the person who commented. I love these reminders of stories of ways people's lives were touched by the work I do. Someday I hope to have an actual Love Ledger product I sell. But for now, I encourage to grab a beautiful blank book and start your own ledger today. And on days you're feeling discouraged or fearful, simply pull out your Love Ledger and leaf through it, reminding yourself of how necessary your work is to the world.
You know that ole bumper sticker phrase, "The more you give; the more you get"? It is so true. When I use these simple practices on a daily basis, when I keep in mind that I measure my success by how many lives I touch, my heart feels full, my life is more colorful, I feel like I'm living my mission, and — you guessed it! — my bank account also feels the love!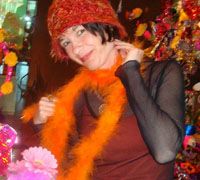 Sherry Richert Belul believes that in the midst of everyday life, it is easy to forget how extraordinary — and fleeting— our lives are. So she helps people celebrate who they are, the people they love, and the shape of their lives — even when none of those look the way anyone had imagined. Her company, Simply Celebrate, offers coaching, books, self-mentoring programs, and one-of-a-kind Celebration Tribute Books.