Post by Erica Staab for the Kind Kindred series.
Kindness in the Smallest of Things
Often we get so caught up in the larger pieces of our lives that we forget that it is the day to day kindnesses that keep us afloat.
While on vacation with a dear friend of mine we heard a high pitched alarm. She immediately had a slightly panicked look on her face and looked to her insulin pump, but then she looked to me with a puzzled look on her face. It was her alarm sound, but not her pump. When we looked to the table next to us an gentleman in his late sixties was sitting there eating alone oblivious to the beeping of his insulin pump.
After having a conversation about whether or not she should bother him, or if we should interfere we finally decided it had went off a few more times and since she had a pump too it would be easy enough to strike up a conversation. My friend went over to make sure he heard it, and he said that he doesn't hear the beeping because it is too high pitched but eventually it will vibrate and he will feel it. He thanked her for her concern and we went back to our meal.
A few moments later when the waitress brought out the check he pulled out his money clip to pay and as he opened it up he just stared, then teared up and closed it again and just sat there lost in thought with tears rolling down his face. My friend tapped my arm and whispered "Should we invite him over to join us?"
We both are part of "the club", people who have lost those we love and we recognize the not-so-secret look of loss that characterizes it's unwilling members.
So she asked if he would like to come over and share "diabetes war stories". He looked warily at her wiped his eyes and they started a conversation. At first it was about their common condition, then it was about some "lifelong learner" classes he was taking. But it wasn't too long before he talked about how it was harder now that there wasn't someone there to hear when his alarm went off because two months before he had lost his wife of 52 years.
He was on vacation with his brother and some friends who had come to the ocean to fish, drink and spend the week together. The year before they had met an old classmate of hers that used to live on the island and they ate at this restaurant. And wordlessly we knew that he had come to chase her memory, to get away from people who wanted him to forget his pain when all he wanted to do was to remember.
So we listened, we asked him to talk about her, and in the midst of his tears his face lit up with love as he told us about how they met, and about his awkward phone call to ask her on their first date. He shared a picture of their wedding day smiling and glowing with love and anticipation as he tenderly placed his hand over hers for proverbial cutting of the wedding cake shot.
And at the end of our conversation my friend leaned in and said "How can we help you right now?" She had wanted to do something for him, to help ease the ache, to "do" something.
His eyes watered and he said "You already helped by hearing a stranger's alarm and by caring enough to let him know, by asking me to talk about my wife, by caring about a stranger eating alone" and his voice cracked "that is more than enough."
And I was reminded yet again that it is the littlest pieces of kindness that we can offer to another, to truly see each other, to be present to the moment and bear witness to their pain, their joy, their struggle, their celebration- it is these little pieces that are worth everything.
And he had offered gifts of his own to me. When I was mourning the loss of a relationship he had reminded me of what love looks like, even in the midst of deep pain. His love that he shared reminded me of what I want to share with a partner. His love of 52 years rekindled in me a belief that it does exist and that it was worth waiting for.
What kindness it is to notice, to pay attention, to deeply live within the moment. And I have yet to offer a kindness that isn't returned in some way, often magnified.
And it is those moments, when we look around and notice opportunities to live out our love, to share our humanness, to remind someone they are not alone, these moments that sustain us, that heal our hearts, that keep us connected.
It is these little moments of kindness that are strung together that create a web of community, of compassion, of concern that can change our lives one little act at a time.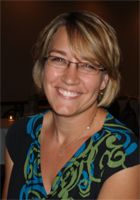 My day is not complete unless it has lots of words in it- ones I am writing or reading. If I am not doing those things I am probably trying to capture beauty in a photograph, laughing with my niece and nephew or spending time with friends and family. Each day is an effort to live out my prayer to be love made visible. I am a life coach, director of a local domestic violence and sexual assault organization, massage therapist, author of the In-Between a book on living through loss and those moments of being In-Between, speaker, healer and cheerleader/catalyst to help you live your best life.
For more information you can find me online: EricaStaab.com