Post by Rebecca Esther for the Kind Kindred series.
Be Kind To Your Friends & Yourself: 10 Ways
Friends impact our confidence and self-image more than we realize. Good friends can turn a bad day around, help you shine with a simple pep talk, and give you the courage to rock that fab dress with the neckline down-to-there.
It's time to return the favour! Here are 10 ways to boost a friend's sense of self, help her feel beautiful and simply brighten her day:
1 Tell her you adore her. It's so simple, but telling someone they're amazing has an incredibly positive impact.
2 Make a date. It's easy to go weeks without seeing people you care about, because we're all so busy. Make your friends a priority by penciling in an afternoon at the cinema, a catch-up brunch or a shopping day.
3 Have a tradition. Every Victoria Day, my three closest friends and I have cocktails or a sleepover (because yes, we like pretending we're still teenagers! Ha). Maybe for you it's a night out on the town on New Year's Eve, a monthy mani-pedi or a weekly homemade dinner together.
In addition to being practical, planning to spend time together demonstrates that your friend is important to you, and that gesture goes a long way. There's nothing better than knowing you are an important part of someone's life (especially if you cherish them, too!).
4 On the other hand, be able to drop everything for her. Occasionally forget your obligations in favour of an impromptu party or being there in an emergency.
5 Be body positive. Demonstrate what it looks like to love your body. Ban "fat talk". Tell her she's gorgeous, just because.
6 Write out a list of awesome things about her. Does she mix a mean martini? Does she rock killer style like no one else? Is she always there for you, no matter what? Tell her!
7 Surprise her with a favourite treat. Being thoughtful and remembering the little things, like a friend's favourite colour or preferred cupcake flavour goes a long way.
8 Share what's on your mind. Be honest, open and candid. Let her know that you trust her and value her opinion.
9 Be a good listener. Whether it's about office gossip, her amazing new pair of shoes or a heartbreaking secret she just has to divulge, be her confidante. You know she'll do the same for you.
10 Be kind to yourself. In the depths of a depression, I went into a monologue of self-loathing remarks and my best friend, Chana, said "stop talking about my friend like that". I'll never forget it. Bashing yourself hurts your friends. So for their sake and yours, extend your kindness to yourself.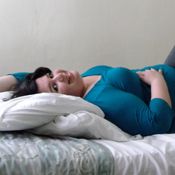 Rebecca Esther blogs about looking good, feeling great and having fun, at FashionBeautyBodyImage.com. She believes in kindness, optimism and the healing power of chocolate covered cherries. Chat with her on twitter at @RebeccaEstherxo.