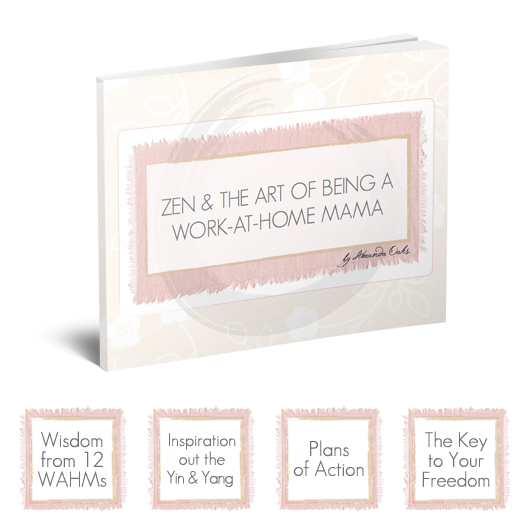 Hi Beautiful You,
Over the last year, I've been writing this book for you.
I asked for your questions + inspiration & woah-mama, did you show up!
I wrote it for you. I wrote it for me. I wrote it for our kids.
Scribbling down the outline furiously one morning before my boys woke. Thoughts on journal pages while they sat in the middle of the living room floor thumbing through books. Paragraphs that turned into chapters after they went down for their afternoon naps.
This is my journey. This is what I know to be true.
It all started with an email from a Mama who had a dream. She emailed me after I launched my first book. She wanted to know how I did it. She wanted to know how it was possible with little ones. She asked, how do you do it all?
The truth is: I don't. I do a lot but I've created ways to make it work for me.
Liken this book to sitting down over a cup of tea with me, discussing life, love, business & being a Mama…
And then you ask, What have you learned over the last 3 years?
3 years ago I started doing work that I love. I had no idea what I was doing but I had soooo much fun doing it. My oldest was 1½-years-old.
2 years ago my youngest was born — insert lots of time in bed nursing him into happy-milky dreams. During this time, with a faulty laptop by my side & the love of my life unemployed, I devoured pretty much anything I could get my hands on about running an online business. I looked down at my little dude, all hazy, coming out of a milk coma & thought: I have to do this for him. I have to set an outstanding example for both my kids. That is when I truly started to take the steps to take my enthusiasm & love for my message + encouraging people to blaze their own path with kindness & compassion to a new level.
1 year ago I started making & continue to make a living from doing what I love. I embraced who I am & what I stand for. I found my tribe. I've stepped out of being a victim of circumstance & into being a creator of my experience. I made my art & I sold the heck out of it with love & I've inspired others to do the same.
Reading this book was like being curled up on the couch with a dear friend sharing stories about all that being a work-at-home mama means. Amanda holds nothing back as she shares glimpses into her real world paired with accessible tips you can implement right now. I loved every word! Thank you for creating this book to invite creative mamas to feel like they aren't alone as they move through their crazy, awesome, beautiful, hard, real days!

Amanda Oaks' new ebook,
Zen & the Art of Being a Work at Home Mama
is a yummy concoction of everything you need to grow your home-based business without compromising your love-based home. Amanda serves up equal parts inspiration, motivation, relaxation, and plans-of-action — with the perfect-sized sides of video, resource info, and stories of other mamas-in-the-know. This book is a simple, kind, and compassionate solution — with a twist of kick-ass coaching.
(more sweet testimonials below!)
In this book, I am sharing my story. I am sharing systems, encouragement & ways of thinking that totally shifted the way I move in Mamahood, my business & in life.
It's honest, hopeful & helpful.
It's full of love, for you, for me, for our businesses, our children & the world.
Here's the thing, I wrote it for Mamas but it isn't just for Mamas. It's a way of life. It's the key to your freedom & I'm handing it to you to do what you wish with it.
I see the work you are doing in this world & I want to celebrate you. I want to celebrate your bravery, your determination & your all-around awesomeness.
I am asked over and over, "How do you do it all?" Just as Amanda, I don't. I lean on other brilliant woman who tell me the truth, guide me and allow me to fall apart and gently pick myself back up. Amanda is gifting all of us with her book, her truth, her gentle guidance and the wisdom that comes from living a life full of beauty and passion for serving the world with her gifts. Read, soak it in, come back and read some more. Your life, your work, your heart will shift.
Being a Work-at-Home Mom is not the easiest thing in the world. I will be the first to say that but over the last two years I've done a tremendous amount of work to make this path peaceful, joyful, profitable & so full of heart that as I sit here & type these sentiments out… I am grinning my face off. I just feel LIGHT – yes, light, in the midst launching this book into the universe.
It's 140 pages of my know-how divided into 22 sections of sage, poetic + practical advice wrapped up in a zentastic bow:
Zen & the Art of…
ConnectionTruly Believing You Are EnoughBeing Present & Slowing DownWonderLoveCommunity & Shining Our LightCreativityGetting RealHonoring Our FeelingsRole ReversalA Day In The LifeLetting Go & TrustingSending Love NotesTaking A BreakMotherhood (especially for new mamas)Getting Shit DoneRockin' Your Business (aka How to Bring in the Moolah!)Marketing Your AwesomeBeing YourselfHaving TribeGrowing Your Readership & Customer BaseRockin' This Gig (Interviews with Mamas!)
I share ways of thinking, ways to slow down, how to drop the guilt & frustration, a slew of product ideas, tools I use to create my digital products & to maintain my business, how to begin & maintain a sponsor program & get involved in affiliate marketing, & sanity-saving products I've used for my little guys + so much more!

Top selling Etsy Artists, Coaches, Motivators, Movers & Shakers, Writers, Retreat & Workshop Leaders, Intuitives, Jewelry-Makers, Public Speakers, Photographers, Textile & Digital Artists:


Lisa Lehmann

Hannah Marcotti

Liz Lamoreux

Liv Lane

Lori Degenstien

Amy Palko

Liz Stiglets

Mindy Tsonas

Leonie Dawson

Tara Wagner

Jessica Rose

I asked these 11 Mamas, who are totally rocking this gig, these 5 questions:
— What do you do?
— Biggest lesson you've learned being a Work-at-Home Mama?
— Best ways you've grown your biz?
— Your favorite resources for both your biz & your kiddos?
— Best piece of advice for Mamas running or thinking about running a biz?









Being a 4th generation entrepreneur, & part of a family that unceasingly ran an array of businesses wholly & fully from their hearts, this is all I know. I don't know hype. I don't know icky-bullshit-flashing-arrow business crap. All I know is how to run an honest, heartfelt mom & pop-type business & I want to teach you how to do the same. I want to show you how I increased my revenue by 650% in one year… why?
Because I believe in your freedom just as much as I do mine & I want to show you that it's so totally possible while having two young babes to do this with pure & utter joy.
Deep Love, Respect & Gratitude,

I am committed to doing what feels good for me & I want to extend that into my pricing this product.
The suggested price of Zen & The Art Of Being A Work-At-Home Mama is $25 but I want to leave it open to you to pay what feels good for you. If you feel that its worth more than that, make the price higher, less than that, lower. If you click the pink button below it will take you to the purchase page where you can insert your price & click Update Cart.

To hold my work in a place of reverence the minimum price is $10 but I believe that its value outweighs that greatly. Price how your heart tells you to.








More loving praise!

Okay, this book is officially AMAZING. Amanda Oaks is wise, funny, practical, tough, and tender all at once. She's BEEN THERE—and is reaching out her hand to us, with a sweet smile and infectious laugh. I'm not a mama yet but would love to be someday, and let's be honest—I worry how I'll manage my creative business along with mamahood. Amanda shows that it's absolutely possible to embrace love and wild joy in every aspect of life (from changing diapers to creating artwork), being your most authentic self in whatever you do. This honest, encouraging book gives me such hope for my future—and the future of my family.

There's so much great content in here you don't even need to be a mama to benefit! This is a book that needs to be out there in everyone's hands! Gorgeous, ah-fucking-mazing! It totally jazzed me, rejuvenated & resparked my entrepreneurial fire! Yeeessssss!
OH MY GOD!!! I was in tears reading this. Tears. It is beautiful. Sweet. Encouraging. Perfect. I love, love, love, love, love, love it! It may seriously your best thing yet. Mamas are gonna love this. And not just the work at home ones…there are such gems in here for every mom. And everyone in general.
You are totally off-the-freaking-wall incredible. I'm going to go read it again now!
Oh my goodness! First of all, this book is a great big sigh of relief.
And then it's like being wrapped up in a soft cuddly blanket and being given this gorgeous sparkling permission slip that says that I can succeed without stress or overwhelm or any of the ICK associated with most online business teachings.
Thank you Amanda! This is a much-needed resource for everyone, not just mamas, who want to build a business with a true, open heart.
Amanda's newest love offering,
Zen and the Art of Being a Work at Home Mama
, is just the thing for those lonely days when your twin passions of parenthood and self-employment seem a little more like your jailer then your first love. When isolation and overwhelm get you down, this easy-to-read book will give you a bit-sized portion of sage wisdom + plain speaking practical advice. Keep it in on your desk, friends – or maybe in the diaper bag! It will serve you well.
I just read the entire thing straight through, tears streaming down, it really touched me, the honesty is so powerful. I love it so much. I need to read it again (and again) because I just flew through it so fast. It's exactly what I need to hear and be reminded of today . And every day, over and over.

Cover to cover truth, beauty, wisdom, inspiration – and tons of moments of relief when you realize you're not the only one who thinks/feels/gets that way sometimes! I'm not a Mama but I still found this gem totally relatable, fun and helpful. SO much LOVE for this and YOU!

It's so easy to feel overwhelmed as a work-at-home-mama. Amanda's heartfelt ebook can show you just how easy it is to thrive instead.
Disclaimer: While all of this has been tested & true, time & time again, for so many different people, the results, experience & timeline will vary for each person. But I can say with total confidence that you will get out of it what you put into it.