(Cards pictured created by Melissa for her Kind Kindred post!)


Alyson of Balanced Energy posted the above photos & caption on Facebook yesterday evening. Here's the whole story:
Wendy, my daughter, has seen me printing out the tear off posters and cards for over a year now and she always liked them. So when she and her best friends, Julia and Aoife, got together for Wendy's 16th birthday this past weekend they set up an assembly line ! Printing, cutting, looking for different cards on your site, making their own cards – it was a flurry of paper, scissors and sharpies lol! They stayed after school on Monday and after checking with their head of year (who Wendy said was looking decidedly 'misty eyed' and kept calling them her angels) they went to work distributing around the school. Within a couple of days everything had been taken and they were re-printing! Makes your heart sing, doesn't it? – Alyson
I am in awe of these girls, so beautiful, brave & FULL of light. I think of young people when I make most of my printables. My dream, & I'm putting it out there for all the greatness that putting it out there usually brings you:
One day I want to work with young people in small groups. It's what I went to college to do & I never finished because the rules & hierarchy that the field of social work had in place made me itch. Thank you for sharing this Alyson, you gals rekindled something in me, I'm forever grateful.

You Don't Have to Be Everything : You can make the choice, in this moment, to release yourself of that burden and accustom yourself to the unique light of You. The wild, untamed animal spirit of You. The strange, irrational, totally absurd and magnificent beauty of You.

Risk Being You : If you could erase everything you know about yourself, who would you become?

If you missed me raving about this in the newsletter & on Facebook : You are made of BIGNESS! : Get the Mp3 & the desktop wallpaper, first-rate spunk from Fabeku, as always. LOVE. (PS I dare you to find his 404 page!)

100 Things I Never Thought I'd Tell You : To tell you the things that anger me and excite me, I'd have to toss all the rules of blogging and self-employment out the window. As if those "rules" are the key to what makes me lovable–what makes me marketable.

Sloughing the "Spiritual" Identity & Becoming the Wholeness of Me. : I don't know about you, but for longer than I'd care to admit, I've harbored a "pretty picture" of what it means to be fully realized. Of what it looks like to be a spiritual being.

Supermoon alert : Biggest full moon of 2012 due tomorrow!

Wild Sister 11 came out this week!! I can't wait to sink into it over the weekend! Jen also did her first vlog! Beautiful!! I adore her.

Flirting With Joy : A Beautiful Love Story

No-Bake Energy Bites : Must try!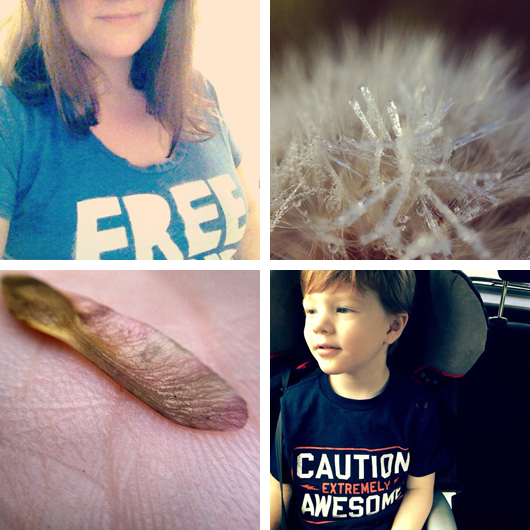 Braces off! I am so proud of me!
Joel somehow landed on
this video
on youtube (NSFW) – so wrong but so funny, Kurt & I's heads whipped around, bahahaha!
Languid Communication
Smiling at myself in the mirror
It's finally sundress & barefoot weather here, oooooooh yeeeeeeeesssss!
"
On top
!"
A video Kurt took of Zenin in the car on the way home from school yesterday, all the windows down, the faces Z was making, pure JOY & wild fun
How much Joel loves his Gaga (no, not
Lady
Gaga, though he loves her too, but my mom!)
Jamming music so loud in the car that it shakes(me to my core)
bird watching in my backyard
laughter with my tribe
experiencing Spring Fever twice this year due to the weather
sleeping with the windows open
planning summer get-togethers
my journey of becoming
complaint-free
sweet nostalgia
little running footfalls
exclamations from small mouths
the pouring of gas on the flames of love
feeling full, so full
I hope your weekend is peppered with jubilant bits of bliss!
Deep Love, Respect & Gratitude,