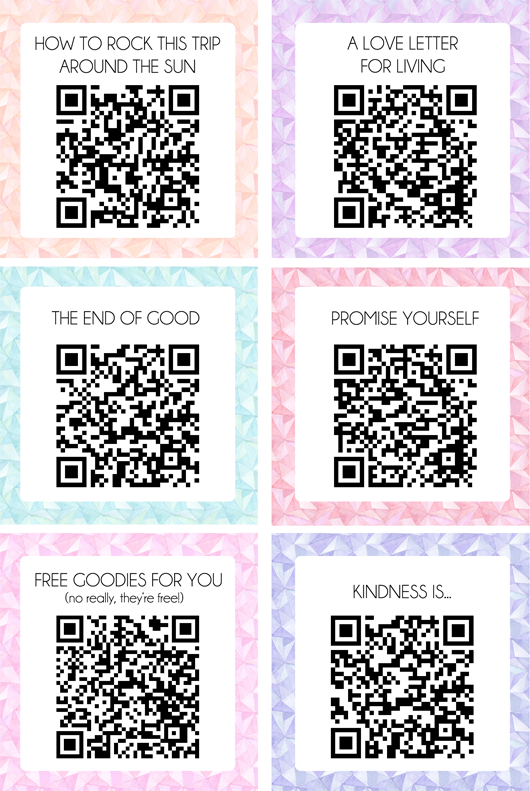 (I made these for me but you can download them if you want!)
My sistah
Kat
sent me a text a few weeks ago with
this photo
she took while out & about saying,
This reminded me of your Compliments Posters!
That of course got my mind spinning! Thank you for the inspiration Kiiit-teennn!
Today, I'm going to share a few creative ideas on how to get your QR codes out into the world!
For those of you that don't know what a QR code is, it's short for Quick Response Code. It's basically a type of bar code that you can scan with your smart phone. You probably have seen them on packaging, I see them on food packaging all the time. I've seen them on billboards even! So, if you have a iPhone you can download a free app to scan the QRs you see. I use this one & love it:


QR Reader for iPhone
To create your own QR codes you can use this
FREE QR Code Generator!
You can make your QR code link to a URL, a simple text message that pops up on the person's phone in Notes (Comic Sans FTW!), or even have it call a phone number.
If you've purchased my How To Create Your Own Printables eKit, the pocket-sized cards above will be super-easy for you to make! If you haven't, you could always try to make your own or just print out a bunch of QR codes & make mini art card collages with them! Like Artist Trading Cards! I LOVE that idea. If you scan the codes on the mini-cards above (which you can totally do by pointing the QR Reader at your computer screen!) they will take you to different posts here on KOM.
If you want go BOLD… put your code all big & awesome on a 8.5 x 11 page & print it out!


(I made this for me but you can download it if you want!)
Visit the QR Generator, bump up the size to 1000×1000, download, insert it into whatever program you are using to create the poster, you may have to bump of the resolution of the code for it to be bigger, personalize it, print & hang it!
You could link to a certain post on your site, a product, your shop, your mailing list…
It would be really awesome if you set up a page on your site just for people that find you via a QR code! Like : "Welcome, so you found the little note I left for you, aye? I'm so happy you're here…"
A non-snoozy, badass & loving way to do some offline marketing for your blog or bizzzzzzz! Woooo!
Love,

PS If you have any questions at all, please comment, I'm here to help! xoxo
credit : pattern by august empress