Post by Kat McCullough.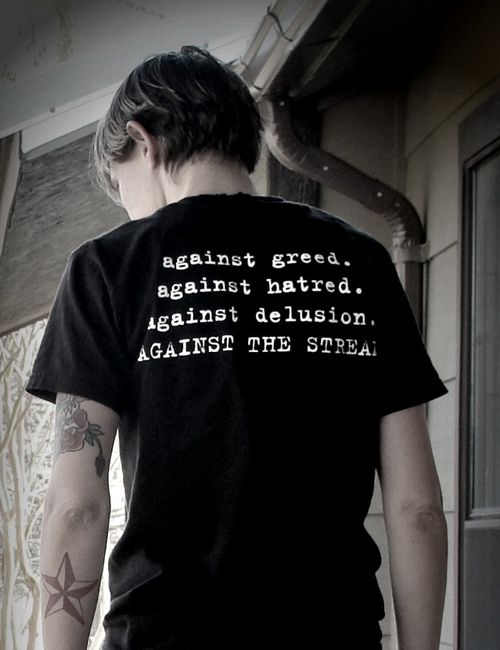 photo by Kat McCullough
I turn 38 tomorrow, and honestly, my 37th year feels like it had an entire lifetime packed into it. I did a ton of personal growth, let go of a lot of toxic people, got healthier, got happier and then… I almost died.
I suffered a pulmonary embolism on November 28, 2011, and what I can tell you is that a near death experience can change some things. Not always. I'm sure there are folks who don't assess in the back of an ambulance, but I do.
At 11:30 that evening I woke up out of a dead sleep as if I had been shot in the chest and then a 400 pound elephant came and sat on me. I couldn't think clearly — I called my friend, and all I remember is her saying, "I need you to get to a hospital right now." Yeah, I know, maybe I shouldn't have driven, but I only live like 15 minutes from the clinic, and the nearest hospital is anywhere from 30 to 45 minutes away.
After some blood draws, they confirmed my D-dimer level was double what it had been just a few hours previously. (I'd been to this clinic earlier with some funky heart stuff, which had been going on for about two days solid by this point. They'd said if it got worse to return immediately, so there I was.)
The doctor was sitting across from me solemn faced, intense, adamant, but he never really came out and said it. He said, "We need to transport you to a hospital because we don't have the necessary equipment here to handle this. The ambulance is on the way."
Twice before the paramedics arrived I had been asked for my religious preference, which is Roman Catholic. I was still feeling quite out of sorts, but in a pinch I can remember things like, "God, I sure hope they got that right. I wonder if they know how to find a priest… Hail Mary full of Grace…"
Once in the ambulance, the paramedic asked me if I knew why I was being transported to the hospital and then began to explain to me what a pulmonary embolism is. I asked if that was serious. She said, "Yeah, it's pretty serious." I'll admit I was concerned enough to ask if I was going to die. After pausing for a little while she said, "I think if this were going to kill you, it would have happened already." I suppose she meant I would just already be dead — I had survived the critical tipping point. Then "it" happened.
The only way I can describe it is as if I were being pushed under water, my inner self being pulled downward from my outer self. It wasn't like passing out or fainting, it was just sinking somewhere deep inside of my own body. I resurfaced to hear somewhere in the background something about my blood pressure dropping and someone telling me to keep talking. Was I talking? Then I sank down again. This is the space where you think thoughts like: Is this it? I'm not scared, shouldn't I be scared? What is this resolve? This overwhelming sense of resignation and "okayness"?
Oh, I thought lots of things in those moments. I thought of this amazing community I am now a part of, and my YAYOM sisters, and I even thought about a few people who mattered to me but really kind of hated me back. I had a speaking commitment only two days away — as an AA speaker — and I really wanted to keep that commitment. The entire thing — it was bittersweet, and lovely, and surprisingly peaceful. Then from behind me I heard, "How much longer? How close are we?" The sound of her voice just brought me WOOSH! Straight back up into my eye sockets again.
Something happened to me in the back of that ambulance. It isn't anything I can pick out of my thoughts and say, yes — that was it. We perpetually have moments of death and rebirth throughout our lives. If we are lucky. If we are paying attention. I didn't have any unfinished amends lying around. I was proud of the personal changes and the growth I'd been through on the way to those changes. I was happy, probably for the first time in my life, with who I had become. The becoming process had been so ugly and difficult and painful — but here I finally was. Surely THIS CAN'T BE IT?! I just got here; please God — just let me stay.
I stayed. When I was finally released from the hospital, I went and carried a message of experience, strength, and hope to a room full of alcoholics that same night. I was allowed, for whatever reason, to keep that commitment.
The following morning, I quit my job. It was the last toxic environment and people to finally go. I had finally grown too much to stay where people could not and would not ever "see" me. I had been given a second chance to finally step into purposeful living. To finally take a chance on a beautiful company that I believe in with every fiber of my being. My company is so very intrinsic to who I am as a person, and I had hidden it away on a back shelf somewhere for far too long. (Very much like I had done to myself for too many years.) On that day, I just let go and leapt and just trusted the net was already waiting.
Yes, I had gotten to stay, but nothing about how I lived would ever be allowed to be the same again. What I can add to the list of accomplishments about this life I have been gifted—the one thing I can emphatically say is: I didn't waste it.
Life is entirely too short for bullshit — that includes my own — and most certainly, anyone else's.
Kat spent ten years as an electronics technician but recently took the ultimate sky dive into a new life. Leaving behind the techy geek side (okay, maybe not the geek side) to live full time as an artist, photographer, and CEO of Parachute Promise. She makes her home in Fort Worth Texas but travels extensively looking for new adventures and connecting with other like minded souls.
For the entire month of April, Kat is sharing a coupon code for
20% off ALL Parachute Promise items
The code is: Mom2012
…because Mama's Day is approaching. It gives you time to order & plenty of time for them to arrive beforehand. Kat offered the code yesterday with this: Moms provide many "soft landings" by default- it's part of their job description I think 🙂
Kat's pins are such a thoughtful & unique gift for the people that mean the most to you in this life. No matter if you choose a keychain, bracelet, necklace, ring, anything on her site, they come with a card, see here, explaining them. Wonderful Mother's Day gifts, not just for your mom, but maybe a stand-in mom, like a grandmother or aunt, or a friend, cousin, sister, someone that's been there for you.
Sometimes, symbols speak louder than words. Never wonder if the people in your life know how much they mean to you.