Guest Post by Amy Oscar for the Kind Kindred series.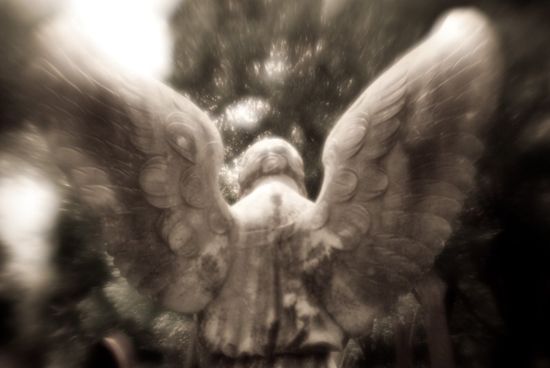 print by Squintphotography on etsy
Grace in a Parking Lot
I write about light for a living – as the editor of a magazine column about angels. Still, in spite of the incredible miracles I've read about – and experienced myself – some days just don't feel miracle-friendly.
This is a story about one of those days…
I had a chest cough and splitting headache but it was my daughter's birthday and I'd promised to take her shopping on this, the one day we both had free for weeks. I'd had many of these headaches over the past few years and I'd learned that if I stayed on my feet, sipping Coke, I'd feel a whole lot better than if I lay down and let it overtake me.
When we arrived at the Garden State Plaza Mall, the lot was mobbed and people were being pretty cut throat about parking spaces. So, after about 20 minutes of circling, I told Katie, "I'll give it one more try. If we don't find something, we're going home.
It was only then that it occurred to me that, with the headache and the crowd, I'd forgotten about my parking lot angels. They always find us a spot. So, "Please give us a great parking spot… now!" I said aloud and, sure enough, "Look!" Katie pointed. "That woman has her keys out."
To be honest, I considered driving past her. The woman did have her keys out but she wasn't getting into a vehicle. She was just standing there, scanning the vast sea of cars.
Suddenly, something tugged at my awareness. Stop.
I rolled down my window. "Lost your car?" I asked.
"I did!" she said. Then, she gave a little hiccup – and I noticed the tears running down her cheeks. "I've been walking up and down these rows for over an hour… " she said. "I simply can't find it."
"Why don't you hop in the back?" I said. "We'll find it."
"Thank you!" she said. From the moment she climbed into the back seat of our car, shoving aside the pile of papers and books and extra pair of extra sneakers I always drive around with, I liked her. She was about 60 years old and, well, zesty is how I'd describe her. As we started rolling, "It's a brown Oldsmobile," she said. She told us her plate number, adding, "I love license plates."
"Why?" I asked.
"Oh," she said. "You never know when a license plate is going to give you a sign – a message. There's guidance all around us…"
Smiling, I winked at Katie. We'd picked up a kindred spirit!
As we drove, looking… and looking for her car, I pushed aside the feeling that I'd made a mistake – that my gesture of kindness was going to cost way more time than I wanted to spend. Then, from the backseat, I heard: "Heaven help us!"
"Amen," I added.
We found her car a moment later. She gathered her things, and opened the door – then, she stopped. "Let me give you something for your trouble–a couple of dollars, a cup of coffee," she offered.
"You are giving us something," I said. "Your parking spot!"
She laughed. "I guess that's worth a lot today," she said, as and she climbed from the car, Grace streamed through me like a drug, lighting up my whole body.
I felt proud that I'd been able to help her and glad that I'd followed the little voice that had urged me to stop. As we parked and walked into the bustling mall, I noticed that my migraine wasn't as bad as it had been. In fact, within an hour, it was gone. The next morning, the cold that I'd been trying to kick for seven days, was gone, too.
That's when it hit me: this is how prayer works. That woman must have been praying all along as she'd walked up and down the aisles searching for her car. And when I'd finally remembered to call for help, her prayer had met mine and, in a stroke of divine orchestration, we'd been sent to help each other!
I also saw that, at each step, I'd been completely free. I could have driven by. I didn't have to offer to drive her around. She would never have known I'd seen her.
But had I not stopped to help, I'd never have known the gift she'd give to me: her humor, her sweetness, her presence. I saw clearly that I was being used as an instrument of Grace – and that it had only happened because when that little voice had whispered, Stop, I'd responded.
Did Grace heal me? Had I healed myself by opening to the flow of guidance? Was it the joy of being of service that had activated the release of endorphins, stimulating my immune system?
Does it matter? Either way, by being true to myself, by following the voice of guidance when it called, I'd reached out and my symptoms were healed.
As the angels have shown me again and again: Every encounter is an opportunity for Grace. Open your mind; open your eyes, your ears and your heart to what comes.
Amy Oscar is an author, teacher and intuitive consultant, encouraging you to develop a personal relationship with the Divine. She is also, a student: a lifetime learner, who says, "I have to know how the world works!" Last year, she finally came out of the woo woo closet to write Sea of Miracles, the story of what happened while she was writing a magazine column about angels. Today, she teaches out of her own insights into human consciousness, offering The Soul Caller Training, a five-week program in deepening your own connection to the divine. You can find her on Facebook or blogging at amyoscar.com. On Twitter, as @amyoscar where she moderates #SoulCall, a Sunday morning Twitter chat about living a spiritual life in a material world.