Guest post by Wendy Brightbill.

print by Wendy Brightbill
Embracing Limitations
The year following my car accident was a jumbled up mess. I remember little flashes. Being sprawled out on the couch. Debilitating pain. Tears of desperation. The world seemed to be spinning. And somehow it felt like it was all my fault.
I couldn't put two and two together. I would get lost driving around a town I had lived in my entire life. I found myself missing entire conversations. They were just completely gone.
Looking back, I wasn't even aware that I had a brain injury.
All of the ways that I was used to operating were just gone. Being the detail oriented perfectionist, it was staggering to lose that part of myself. Someone took all the puzzle pieces and mixed them all up. I had a broken brain.
I felt like someone had switched all the wires to my TV and all I got was static and fuzz.
On the outside, I seemed normal. But appearances can be deceiving, especially when it comes to brain injuries.
I withdrew. From life. From friends. From hope.
Before the car accident I was extremely left brained, almost to a fault. I obsessed over the details in life. Remembering times and dates, piece of cake. Multi-tasking, no sweat. Being on time and prepared, what I was designed to do.
This is all before a car accident rewired my brain. My left brain was the side that received most of the damage. So what happens when a left brained perfectionist injures the side of their brain that makes them tick? Well let's just say I went a little loony! The delusional part was that I was convinced that I could still perform the same tasks and do them well.
If I could tell myself anything that first year, it would be this:
Dear Wendy,
You have a brain injury. You need to be kind to yourself and give yourself time to make new connections in your brain. All of these frustrations you are feeling are normal and it's ok. Things will not be the same as before, but you will find a new normal. Don't be so hard on yourself and look for all of the beauty around you!
Love,
Yourself
Years passed. I would love to say that I woke up one day and everything changed. But that isn't quite how things worked. It took me a LONG time to accept that my brain worked differently. Let's just say that there were many tear filled conversations with my husband about how I wasn't the same.
It's near impossible to change the way you see yourself. But slowly I began to realize that maybe I might not EVER be the same. Maybe I needed to accept my brain injury. My personality went from structured to go with the flow. And the more I began to accept those limitations, freedom became possible. I could breathe again.
When I let go of the expectations I had on myself, I could finally start putting the pieces back together.
So what huge life lesson have I learned from having my left brain injured? I have learned to let things go. I have discovered that there is this whole other side to my brain. Imagine that? I found out that I love being creative. I learned to make a mess and enjoy doing it.
There was a time I wouldn't have loved the messy free flowing nature of mixed media art. Now, I thrive on it. Now all I want to do is get glue and paint all over my fingers. I use my right brain every day to create art. And I am so thankful for that.
Hind sight truly is 20/20. If I could only tell myself back then about the beauty that would come out of adversity. Who knew that such a huge limitation like a brain injury would turn into living a creative life?
Today I can say I wouldn't trade my path for anything. Yes it was gut wrenchingly difficult. But look what I have to show for it? An incredible creative life.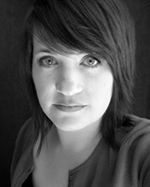 Wendy Brightbill is a mixed media artist, art journalist and seeker of beauty. She found art after a car accident rearranged her brain. Wendy teaches art therapy classes for those wanting to make a mess and find healing. She recently launched her online class titled, The Altered Life E-course.