I know you all are fun, unique & creative, so I wanted to share this simple way to bring joy.
I painted my nails into watermelons last summer. I went to the dollar store, picked up a few bottles of cheap nail art polish & let my imagination go wild. I would smile every time I looked at them, cashiers at the grocery store would smile & comment on them, family members & friends loved up on them. They were conversation starters, they were a hit!
As you can see, I am not a nail art professional & I keep my nails pretty short most of the time, so you don't have to have long nails to give yours a little pizazz!
Paint yours, offer to paint a friend's, your sister's, daughter's, niece's, mother's – have fun with it!
Here are some photos & tutorials for inspiration :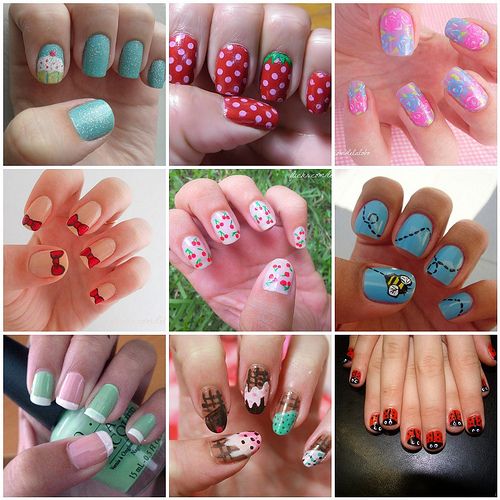 1. Cupcake 2. Strawberry 3. Flowers, 4. Ribbon Bows 5. Cherries 6. Bees
7. Sweet Mint 8. Ice Cream Cones 9. Lady Bugs
Videos:
Watermelon Nail Art Tutorial
Cupcake Nail Art Tutorial
Strawberry Nail Art Tutorial
Vintage Flower Nail Art Tutorial
Ribbon Bow Nail Art Tutorial
Cherry Nail Art Tutorial
Bee Nail Art Tutorial
Ice Cream Cone Nail Art Tutorial
Lady Bug Nail Art Tutorial
If you decide to play, I'd love to see yours!
Have fun!
Love,