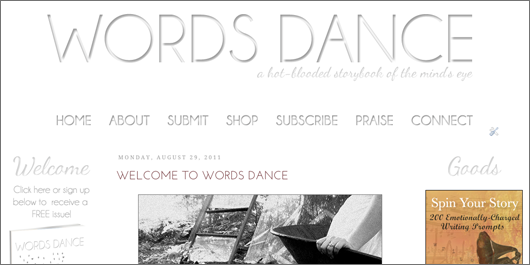 Words Dance
a hot-blooded storybook of the mind's eye
Some of you may have noticed, maybe not, I was pretty quiet here last week. I was shoulder-deep in a project that I am so wholly & fully passionate about. If you
hop on over to the site
you can read a little about why it was so important to me to dive deep into the project & not really come up for air until it was finished.
WordsDance.com is a website that I've had since 2003. If you check out the About page, you can read a little about its history.
Along with the website relaunch there is also a FREE magazine that you can pick up, brimming with poetry, art & love!
I plan on releasing an issue every month starting in November & I'm taking submissions for poetry, photography & art! Words Dance is a little edgier than KOM, it's sensual, spicy & sassy at times. Nonetheless, I'm looking for poetry & art that moves me on any level. You can look over the submission guidelines if you are interested, I would love for you to be part of it!

The free issue houses select pieces from Words Dance when it was a print issue. Beautiful, moving poetry from some really awesome people & poets in my life. I am blessed to know them. You'll have to sign up to the Words Dance mailing list & jump through a few email hoops to receive it but it's so worth it, I'm so proud of the way the issue came together!
Thank you for being here & for your support, much love & gratitude,