Wreck This App
Compatible with iPhone, iPod touch & iPad
I was poking around in the App store on my iPad this week & came across this app –
squee!
– I bought it without hesitation. A few years ago Keri Smith released
Wreck This Journal
which was a huge success, I knew this had to be awesome too… & it is! Keri gives you the space to be silly, creative & make mistakes… she gently pushes you to be creative, even if you think you don't have a creative bone in your body, you just may surprise yourself playing with this app.
She is offering an introductory price through August 16th too! If you don't have an iPhone/Pad/Pod – you could always buy the book!
If you're on your mobile, simply click here & it should take you to the App Store, if you're on desktop it will take to a preview page.
From the description:
With Wreck This App, you'll tap into your creative side in an entirely new way: by exploring your best mess-making and destructive abilities. Guided by more than 50 prompts and using a spectrum of drawing tools, you can tap "holes" through the screen, "Drip" different inks, and then smear them all together, deface your least favorite picture of yourself, scribble furiously, color outside of the lines! And when you've wrecked your app, you can post evidence of your creative destruction on Facebook or Flickr!
I spent some time playing with it this week, you can add photos, there are various tools you can use: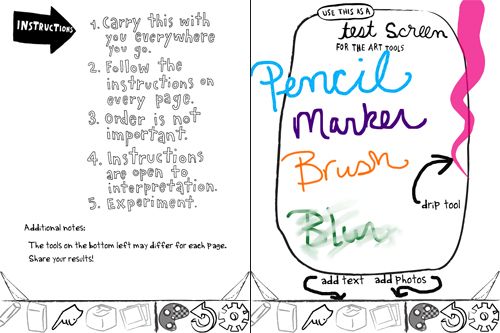 The app is worth purchasing just for the drip tool! You touch the screen & then you move your device around & the paint slides in the same direction, so awesome :

You can add text too:

Great way to relax & relieve stress :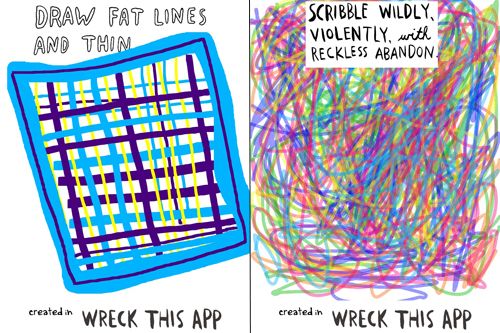 I thought that this would be an awesome way for you to get creative this weekend! I have one more post scheduled for today, it won't be my usual Friday Lovelies this week, but just a little update from me 🙂
Let the wrecking begin!
Love,