Spin Your Story
200 Emotionally-Charged Writing Prompts to Stir Your Soul
108 Heartfelt Questions
42 Jumping Points
50 Questions for Artists
I'm going to be real with you, I was in a little bit of a creative rut. I was scouring the internet for a book that housed creative writing prompts. Not your typical & direct journaling-type questions, but juicy, poetic, summon your muse-type prompts.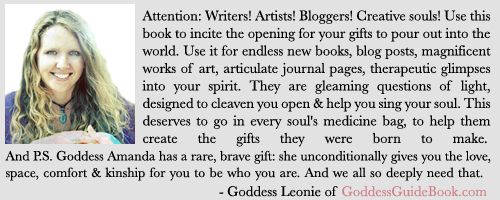 Last month, I was invited to be a regular contributor in an impassioned monthly magazine & to a drop-dead gorgeous blog, both centered toward women, with this too, I've had this fierce desire to write. Before I became a mama I wrote a poem every day. I haven't been exercising that muscle, instead, I've just been secretly pining to pen words, feeling inadequate because writing doesn't come easily for me, I really have to work at it sometimes but it's a craft I enjoy. My muse was tired of being ignored for busyness, lack of time & "nothing to write about" – when in all reality, I have everything under the sun to write about & I really should make time to do it because I love doing it.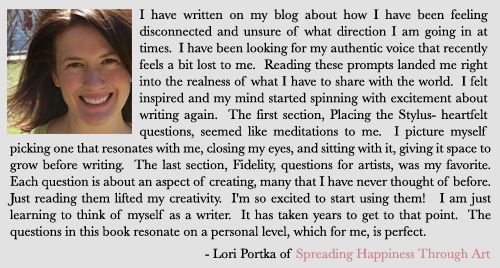 This book began as a short list of prompts for myself to leap from, but three nights ago, I was in bed, in that oh-so-wonderful dreamy state just before slipping into slumber — & at 11pm, I sat straight up, jumped out of bed & flew down the stairs after this thought floated through my mind:
Why don't you create the book you are looking for?
Needless to say I was up for half the night… & here we are.


$5 | PDF eBook
This book is broken up into 3 sections, Placing the Stylus – 108 Heartfelt Questions like:
How are you living your vision?
What words are hiding on the underside of your tongue?
Finding Your Groove – 42 Jumping Points like:
I hold on to…
There's a space between…
Fidelity – 50 Questions every artist, of any kind, could ponder:
How is your relationship with your art?
What in your childhood moved you to create?


I created this book for you to jam & jump from. You don't have to answer the questions directly, just read them, sit with them & see what happens. Since writing it, I've filled up quite a few pages of my Moleskine with ideas for poems, blog posts & stories for me to spin. I'm certain that it will do the same for you.?
In Love & Gratitude,


$5 | PDF eBook
OR:

*** You will be checking out using PayPal, where you can use your PayPal balance, your credit card or your checking account to pay. After purchase, you will be redirected to a download page AND receive an email with a download link to download the book instantly. If you don't have a PDF reader, you can download one here for free. Everything is super easy & safe! If you have any questions, please don't hesitate to email me at kindovermatterblog (at) gmail (dot) com!
More loving praise:
Some sweet tweets: