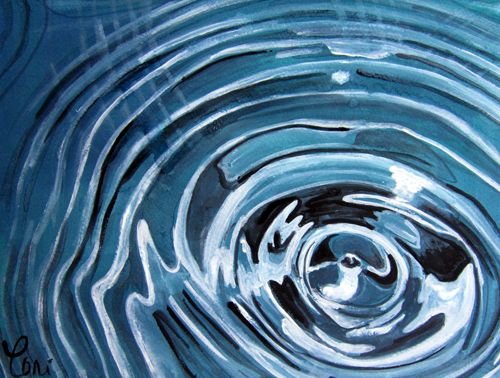 Never think your contribution isn't good enough, big enough, far-reaching enough, because you never know how far your ripples may reach. – Amanda Fall
The painting above is by Cori Lynn Berg, she was inspired by the quote above which is from Amanda Fall's Kind Kindred piece, ripples indeed!
Wild Child : one of the most beautiful things I have ever read.
143 Acts Part 1 & Part 2 : According to my doctor I was 20 weeks 3 days pregnant when I had my miscarriage. This equals 143 days. I have decided I would like to complete 143 random acts of kindness which will correlate with the number of days I was pregnant.
You have permission : You have permission to say no whenever you like, however you like, in whatever kind of voice you like, without feeling like only Mean Girls Say No and Nice Girls Say Yes. That's bull. Yes and No have equal weighting – what's important is if you use them when they are the best thing for you, not out of fear, obligation or guilt.
It's Time for You (and Me!) to Shine. Go Ahead, Be the Star of Your Own Life : Tanya relaunched her website & boy is it BEAUTIFUL! She's giving away a Swag Bag of Magnificence too! You must check it out!
Be an adult : Let. It. Go. Don't let them go–just let the control of the situation, or their behavior, go.
How to Be the Sexiest Woman in the World

A whole lotta love for the above free printable by Moonberry
Owning your truest self, saddling up this wild life & riding beneath the surface, banding together with like minded searchers & workers & light legions.
Strength : In my life, accepting the reality of his death, and the manner in which it happened, has been one of the hardest things for me to endure and work through.
In love with this Etsy shop.
This video interview between Bernado & Mayi had me smiling huge!
mamaVISION : Former Paris model serves as a voice of reason for those struggling with eating disorders.
Please cast your vote for Raising Ruby for "Best Blog Post" at the 2011 Petties Awards & help us spread the word that smiles, rather than stares, can make a world of difference for individuals with disabilities.
Expressing Your Deepest Desires

Happy Weekend,
see you Monday!
Love,