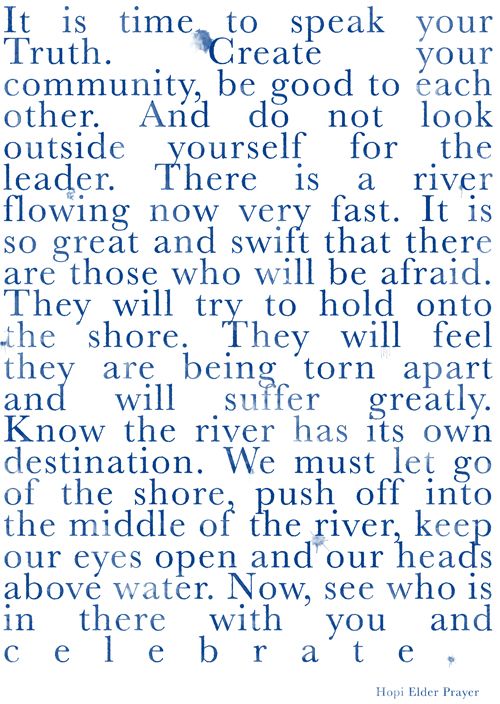 right click, save as:
Hopi Elder Prayer – PDF
Printable Faux Watercolor Art Print
I have no idea how to begin this. Truthfully, I am without words, it is all
feeling
. The
love that you have shown
my family & I has been incredible, breath-taking, inspiring, insightful &
FELT
— deep. We are embracing your love. There's a lot of love in our home but your extra loving goodness & support… it lifted a weight. We needed it & we are immensely grateful for all of it.
Zenin went to his first speech therapy session yesterday. Up until now we were doing everything in our home with the help of an amazing team of professionals, preschool teachers & occupational therapists who specialize in speech. We are taking things as slow as Zenin needs them to be. In the past 6 months he has made awesome progress, so much so, that I lost count of how many words he has said or can say. Once in a great while he'll bust out with a two-word phrase & my heart just swells with so much love & pride. Like just a few weeks ago, I was lying on the floor, he was standing over me, I said, "Zenin, look at you, you're so tall!" He said, "I tall, I tall, I tall!" — instant tears. He is magical & I am standing in the power that I am his advocate, his voice, for now. I trust myself to know what is best for him because I have paid close attention to his cues since before birth. Any mother that is reading this right now knows that gut feeling, that knowing, that comes with mamahood. It's fierce & I trust it.
Though I'm pretty certain I won't be able to reply to all the comments & emails I received, I read them, every single one of them. I'm serious when I say that I have a total love hangover today & that's not a bad thing at all. I am so blessed to be part of this amazing community. So blessed. Thank you for being you. Thank you for rockin' this life with me. Thank you for your encouragement, recognition & wisdom. Thank you for making this a safe place for all of us to share our truths. Please know that you are appreciated & loved.
I'm in the middle of the river, lighter, floating… & I see you–
& I am celebrating our strength.