I put together a page of beautiful awesomeness for you! It will be ever-growing – I will be adding new things often! I still have a folder of goodness to add & will continue to add goodies as I find & dig into more, so check back in every once in awhile.
There will be free eBooks & eCourses, there will be paid products & services that I have BIG love & faith in.
Enjoy, dear hearts!

Tara Gentile pushes passion-driven entrepreneurs to actualize their ideas, visions, & dreams – turning them into dollars & cents – HOT STUFF.
Tara is a visionary. Her newest guide, The Art of Earning, is rich, empowering, encouraging & abundant with ways for you to get right with what you do, why you do it & why you are worth it. She asks a boatload of insightful questions that provided me with so many a-ha moments that my mind is still buzzing with the answers. It's a beautifully written attitude adjuster, a recharger, it gets you excited with possibility — of what we ALL can do with this knowledge. I felt like she was talking directly to me & I fancy that you might too. (It also has an adjustable price!) You can read my full review here.
Making Motion: 7 Steps for Doing More with Your Creative Life : I am so excited that Tara compiled this brilliance into an eBook! Chock-full of wise advice to help you climb up the ladder & take action on your dreams. At $8, this is an absolute steal!
52 Weeks of Blogging Your Passion : is the digital guide to creative blogging. This guide isn't a "how to." It's a method for exploring your own passion, your creative business, & your relationship with the community around you.
Wish there was a plan for turning your dreams & ideas into ACTIONS? Check out The Art of Action (which I was interviewed for!)
Tara's Digital Empire is thriving & I am rooting for her!


Wild Sister Magazine is a new monthly online magazine, created to empower women. I am so proud & honored to be a regular contributor for this magazine. It's GORGEOUS, both aesthetically & in subject matter — full of light, love & passion. It just SIZZLES with incredible energy! I can't wait for the newest issue! You can check out my full review here.

Connect With Your Courage with the Courageous Living Guides from Kate Swoboda. Kate is a Life Coach, teacher & writer. She works with women from around the world who are ready to shift old patterns around fear & connect with their courage. I can't recommend the Courageous Living Guides enough, full of incredible tools to help you live a better, brighter & fuller life. Throughout the guides, exercises & videos, Kate feels like a friend that's genuinely there for you through the entire process of you recognizing, diving in & transforming. Kate also created THE tool for new & emerging coaches : The Coaching Blueprint : an e-program for new & emerging coaches who want to create a blueprint for a successful & fulfilling practice. This program is chock-full of everything you need. It's incredible. Click here to read an awesome interview with Kate here on KOM about coaching.

Goddess Leonie of GoddessGuidebook.com, what can I say about her… oh. so. much. She is beautiful, radiant & inspiring breath of a being! I just adore her! She has free goodies out the wazoo! Meditations, courses, kits & workbooks, oh my! Your guide to living a goddess life. All the tools, wisdom & inspiration you need to feel like a creative, wise, joyful Goddess! Business, creativity, dreaming, fears, chakra healing! You can join her Goddess Circle & get over $700 of her goddess wisdom & guidance for only $99! WOW!


Jenn put together an amazing self-love program, showing you how to be gentle with yourself, to nurture the gorgeous light inside of you, to let it flow out into the world and spread to those around you. There is a playbook: Become a Self-love Warrior : that I am part of, along with so many amazing woman, sharing our self-love practices! You can get the book, take part in the e-course or get both! Free yourself from the noise. You can check out the post I wrote here.

Tara, The Organic Sister, helps women to organically connect to their children, themselves & their passion for & purpose in life. She put together a coaching kit called, Digging Deep, it's a life-long toolbox to help you uncover blocks, overcome fears & move through your challenges to create a self-designed life of passion, autonomy & authenticity. Discord, disconnect, dysfunction are symptoms, not a normal part of life. Highly recommend this, check out more about this kit here.


My experience with The Spark Kit goes a little something like this: The Kit came out right around the time my littlest dude was born – insert lots of time in bed, nursing him into happy, milky dreams – during this time I devoured the book. It was like crawling through the innards of Danielle's beautiful & genius mind, & then coming out so full of love, light & knowledge that I was bursting at the seams. She set ablaze this enormous fire inside of me, so intense that nothing could possibly tame it. One phrase, among so many, that will forever be embedded in the marrow of my bones is this : Know how you want to feel & do whatever it takes to feel that way. That was such an AHA moment for me – I looked down at my little dude, all hazy, coming out his milk coma & thought, I have to do this for him, I have to set an outstanding example for both my kids. That is when I truly started to take the steps to take KOM to the next level – with all the tips, tricks & know-how that I took away from The Spark Kit. It was a beautiful thing & the gratitude I have for Danielle runs so deep.

The Slice of Life Project is a seasonal photography eCourse. It was one of the best things that I have done for myself lately, hands down. Not only does Darrah have a remarkable talent for taking photos, she also has a gift for helping you open your eyes to what's important in your life. She helps you see the beauty in chaos. She helps you see the bold color in your day-to-day. She has an encouraging, gentle & loving teaching style that leaves you smiling & believing in yourself. It's funny, it would be 3am my time when the course would come in via email every week. More often than not I would be up with my littlest one, trying to get him back to sleep. Sometimes, when I am rocking him back to sleep, I will use my phone to try to keep myself awake, I was always thrilled to see her lesson come in. After I would read the lesson I would be bursting with so much inspiration, unable to sleep, wishing that the sun would hurry up & rise so I could start snapping photos. The Slice of Life Project not only showed me a different way to find & photograph the beauty in my life but it enriched my life as a whole. Darrah has a gift & I am so glad she is sharing it with the world, I urge you to let her give it to you.


Michelle Ward, aka The When I Grow Up Coach, has helped over 100 creative people devise the career they think they can't have – or discover it to begin with! A certified life coach, a musical theater actress & a Corporate America escapee — Michelle = amazeballs! Don't know what you want to be when you grow up? She wrote Operation: Creative Career Cheer to help your dream career appear! She also has a fab free eBook when you sign up for her newsletter!


Sparkles is a creative e-course. I just loved getting these gems in my inbox everyday! Absolute genius idea from the beautiful & creative Jamie Ridler! For 31 days, you'll go on an adventure designed to awaken your creative spirit & fill you & your days with sparkle. Each day, you'll receive a quick-to-read, quick-to-do inspiring creative exercise in your inbox. Lessons come from an amazing array of creative guides (including me, yay!) from a wide range of disciplines (e.g. photography, writing, painting, sound, dance – even food!) They'll show you how to get creative, even when you feel like you have no time at all!

Some of these you will have to sign up for, some not, but they're good, oh yes, so good & FREE: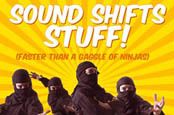 Fabeku Fatunmise – helps you get past stuck & struggle through sound – Sound Shifts Stuff is free download – I love Fabeku's work, after I received his sample I bought his CD & listen to it often… & it works. Fabeku is all around awesome & the kindest person on the web. Check out his blog for the smartness! I also had a sound session with him & it totally rocked my world.
23 Things You Might Not Know About You is a free eBook compiled by Lisa Baldwin. She asked 23 glorious humans if they'd like to write a love note, a big dose of encouragement, smartness & truth, so honored to be a contributor to this beauty!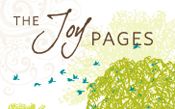 Tanya Geisler – I adore Tanya! She offers a fantastic eBook, The Joy Pages, it's about finding & choosing Joy, no matter the circumstances. Wisdom + laughter equals wonderfulness!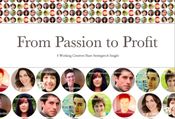 From Passion to Profit e-book curated by Laura Simms is a must-read for aspiring & thriving creative entrepreneurs. Fear, myths, money, boys, going pro, freelancing & more!
How to be Happy: Free Book + 35-Page Workbook by Cara Stein : You can build the life you want & be happy. It's not a trick or a scam, it's not a bunch of silly nonsense you tell yourself & try to believe & it's not outside your power. It's real & it's a gift you can give yourself.
Loss Love Life created by Nicola Warwick is a free guide & workbook about the transformative power of loss, change & transition.
The Receiving Project is a Free 32 day E-Course designed to help you learn how to receive all the amazing gifts that are waiting for you.
She-ro's Journey : Jen Louden asked 47 women to respond to the question: How are you stepping into your she-ro's journey these days? Here is what they said – compiled in a gorgeous & inspiring & free love-fest e-book! Essays, photographs, videos, poems, art – amazing voices to inspire your journey.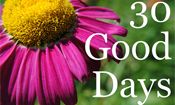 30 Good Days : Whether you're stuck in a rut of downward spiral or flying high on the groove of greatness, 30 Good Days will inspire you, bring comfort and hope, and provide you with a whole lot of pretty eye candy to help you rock it, solid gold. I thoroughly enjoyed this free email course, so good!
Free Photoshop Skinny-Mini eCourse : An incredible resource for anyone who wants to learn more about Photoshop, complete with videos & Kim's remarkable wisdom. 10 part mini Course in Elements 9 & self-paced, this runs at different times throughout the year.
Some of the above links are affiliate links, so if you purchase through these links, not only will you be supporting the beautiful creator, you will also be supporting Kind Over Matter & my family as I will receive a percentage back from each sale. I believe in honesty, trust me when I say that I only provide affiliate links for things that I wholeheartedly believe in.