Happy Monday Lovelies! I am stoked to have Dave Ursillo here today, joining the Kind Kindred guest post series. I was introduced to Dave by way of Jonathan Fields & Danielle LaPorte's Live Fire Starter Session Call. He & his blog are a remarkable balance between rock star & zenned-out yogi, you should definitely hop on over & check out his digs. I just adore this post, the seeds of Kind Over Matter were tended to & watered with this very concept. Thank you so much for sharing here today Dave! You are an inspiration! Sending Love & Peace to all of you, Amanda
"The passion we want to practice is unbiased compassion; towards not only people close to us, but also, our enemies."
The Dalai Lama
Compassion is selfish–at least, a rudimentary understanding and practice of compassion in our everyday lives is selfish, according to the Dalai Lama.
In a recent discussion, the Dalai Lama introduces the idea that compassion, as we usually practice it, is self-interested because we express love, gratitude, and affection for people in our lives that show us the same positive emotions.
In other words, I'm nice to my roommates because we are friends; we do activities together all the time; we share the same friends; and I naturally want to to maintain a good atmosphere in our living situation. I'm respectful and loving to my parents because they raised me well and have given me their all. I act nicely to someone at the drive-through window or at a local store when they are nice to me, because, well why wouldn't I?
Now, it's not that reciprocating these feelings of respect, love and compassion to friends and family members is bad in any way–hardly.
However, when we call the reciprocation of affection and love only for those in our lives who show us the same feelings and care, we're nurturing a very self-interested sense of compassion.
Unbiased Compassion?
How far could compassion possibly reach to change others around us, strangers on the street and the world at large if we stop practicing compassion outside of our trusted inner circles of family and friends?
And so, the Dalai Lama presents a far more ideal practice of compassion that can better everyone around us, including ourselves: unbiased compassion. The type of compassion that is practiced in how we look at the homeless in our cities, treat strangers on the street, even interact with perceived "enemies" or "rivals" in the workplace, our living complexes or neighborhoods, and so on.
Ask Yourself…
How do you respond to a family member who has treated you poorly–perhaps with a longstanding grudge between you?
What is your reaction when someone is rude to you on the street, at a store or a restaurant?
Do you "up the ante" by being equally as rude or even more rude to them?
This is the concept the Dalai Lama is trying to articulate–we should not be compassionate only to those whose lives we have a vested interest in. We should exercise love, understanding, kindness and compassion to those perceived enemies, our rivals, those who act rude to us.
This is the essence of true compassion.
The effect of expressing and maintaining genuine love and happiness toward others can undoubtedly change that one person's day, week, year, or life.
And, with what modern science is now proving–that human emotions are literally contagious; and that one person's happiness or sadness has a deep, subconscious physiological effect on others–we have factual evidence that nurturing kindness toward everyone you encounter can radically change the world by influencing goodness in others and subtly spreading kindness to all.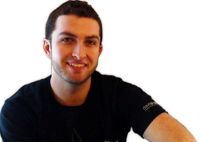 Dave Ursillo is a 25-year-old former "politico" turned writer and alternative leadership speaker. The Rhode Island native worked in five governmental offices from 2003 to 2009, spanning the White House in 2008 and as "body man" to a popular gubernatorial candidate in 2009. Amid a personal crisis of identity, Ursillo quit the career fast-track in public service for writing to inspire others. He holds a Bachelor of Arts in Political Science from the College of the Holy Cross.
| Explore Your Soul & Your Creativity : Register here : Be Gentle, Be Love : 30 Days of Cultivating Your Virtues with Creativity |