Finding Your Voice: A Multimedia Course
by Jen LeeFrom the back cover:
There are thousands of books about how to write, resources about the mechanics of telling our stories. But before we ever open our mouths or pick up a pen, there is something to overcome. Debris to clear from our path. The question, Will it be worth it? to answer.The time for finding your voice has come.Let's clear the way.
The first in a brand-new series, this resource brings material previously only available at in-person workshops and retreats right to your door. It arrives ready to enjoy a long life as a companion and guide–in your bag, on your kitchen table, working its magic through your hands into your heart.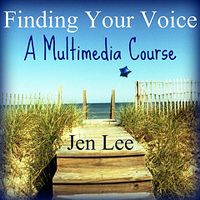 An Audio Learning Program, recorded in a professional sound studio, including the stories and insights shared in Jen's Finding Your Voice workshop (CD, 52 minutes)
An Interactive Workbook in a resilient 3-ring binder with a full-color cover and over 100 pages of course material, black and white photographs, and countless exercises to walk you through powerful shifts and breakthroughs. Blank pages in the back give you the freedom to create more room to write wherever you need it.
A Handwritten Blessing on the workbook's front page.
Private Access to a course-specific discussion board on jenlee.net, where you can enjoy the company of friends who are on this journey with you.
Giveaway Time
And guess what!? Jen is giving away one copy to one of KOM's readers! Thank you so much Jen!
How to Enter:
Comment on this post letting us know why you'd like to win, along with your email address! Super sweet & easy, contest will end next Wednesday, April 27th, the winner will be chosen randomly & contacted via email!
Good Luck everyone!