(found via Connie from Dirty Footprints Studio)
I adore you Alexandra Franzen! It's not CRAZY – it's Bojangles McNutballz : Breaking news: I'm bored of words. Boring words, that is.
3 Steps to Make a Bad Day Good : The beauty of life is that we constantly have the opportunity to change it.
Awake. Alive. Eternal. : You can see eternity in a newborn's eyes.
I'm NOT Sorry : Enjoy the new lightness & freedom of your new sorry-free life.
Instead of getting pissed when things don't go your way, read this. : You have no idea how protected, guided & looked after you are… Believe in Grace.
How to Make a Difference in Someone's Life : It is completely up to you whether you want your life to make a difference & what difference you want your life to make.

I am in complete awe of & inspired by Lori Portka's A Hundred Thank-Yous Project : Her plan is to give away 100 paintings in 120-days time to a group of people who have had a positive impact on her life. — JUST AMAZING! Check Lori's Etsy Shop & her blog!
Blog posts inspired by my eCourse, Be Gentle, Be Love:
Unleashing the Smile within : The more I smiled at someone, the easier it became to just look and smile. Why was I so freaked out about this?? This was fun! It felt good.
Lost & Found : Those items were never lost… But I let myself be. And what found me? Gentleness. Divine guidance, there all along.
Being Joy : I love how children don't try to feel one way over the other and they really embody joy by just BEING JOY. Their concern only for what-is, not what might happen tomorrow, and not harboring what happened yesterday, is a daily lesson for me.
Musings on Kindness : If Niceness places a period after action, Kindness inserts the ellipses that continues and extends.
Musings on Spontaneity : I think that is why I try to make sure my life is structured, because that kind of stuff scares me. I don't want to be "out of control." I'm also jealous of how she was just able to do it. She seemed to fundamentally change who she was each decade I knew her…
Be Gentle, Be Love E-course – Love it! : There's a bit of everything-printables, photography, art stuff and writing. Yippee! : Super sweet review! Thanks Jodi!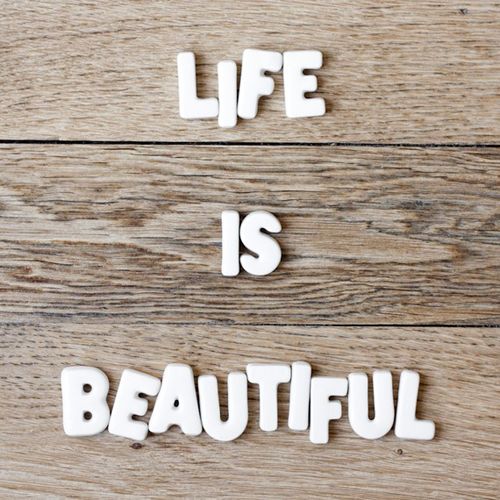 Life is Beautiful print by magalerie on Etsy
Intention + Kindness = Magic: How I Met Deepak Chopra : I whole-heartedly believe pure magic shows up in our lives when we envision it, believe in it and let go of any preconceptions about how it might or might not happen.
Conversations in the Bedroom: Lust. : Listen to your body's urges when it comes to pleasure, & then act on them. Get lost in kisses & embraces. Turn off your logical mind…
A Plea, A Secret, A Toast, Some Tears, Made-up Songs, and Yes – a Scholarship Winner! : Michelle's video totally made my day!
Your obligation as an artist is to create opportunities for others

Have a blissful weekend,
see you Monday!