Happy Love Day Beautiful! I am buzzed up on Love & Kindness today because of this post by Kelly! I am super excited that she is joining our Kind Kindred Family & also very grateful that she is sharing this story on Kind Over Matter. When I saw her post last week about how she scored Oprah tickets I was dancing with her, seriously, how awesome, right?! So fast forward a bit to the end of the week, we connected through email about this post & I of course had to share my excitement with her about her going to see Oprah! OPRAH! When she emailed me back & said that she had received the tickets through an act of Kindness & she was writing about that act, well, let's just say I almost dropped my phone when I read it. How amazing is that?! Kindness FTW! FTW! FTW! One thing I love about Kelly's blog posts is how she lets her true self shine, even through the thick of it. This post is no different. This story, her entire story, that she continues to share with us… her words find & make their homes in the deepest places of my heart because I too have had similar feelings & experiences after the birth of both my babes. Thank you so much Kelly for writing & sharing this beautiful, heartfelt story with all of us. You are truly a bright light in this universe. You are helping more people than you know. Big Love to all of you, Amanda
How Kindness is Taking Me All the Way to Oprah
Last week on my blog I shared my excitement about one of my biggest dreams coming true – getting tickets to an Oprah show. What I didn't share is how I got those two tickets. As I get ready to adventure to Chicago in just a couple of days, I really want to share this story. It's a story about the kindness of strangers and how my recently cracked open heart is learning to feel the full breath of absolute gratitude in a way I've never felt before.
Like so many other people, I've never been really good at receiving kindness. Correction. I'm pretty good at receiving kindness, but not so good at really truly deeply feeling the kindness that's been extended. You know how it goes. Someone gives you an awesome compliment and you shrug it off. Someone thanks you for the work you do in the world and you politely thank them while at the same time wondering if you really deserve the kindness. A friend sends a thoughtful birthday gift and you casually thank them for the sweet gesture while going about your day. We are, of course, thankful for the kindness, but in our heart of hearts, do we truly feel the full breath of gratitude by receiving that compliment, that gift, that kindness in the spirit in which it was graciously given? Or do we unconsciously lessen the connection to our gratitude, perhaps because we're too busy, exhausted? Or perhaps we don't really think we're worthy, that we deserve what's been offered? Whatever the case, the connection to the giver gets lessened when we, the receiver, aren't fully able to receive with our whole hearts – when we can't, for whatever reason, accept kindness in the spirit in which it was given.
This was totally how I used to operate. I was always generally thankful, but I would never really allow myself to absorb gratitude with my whole heart. Why? I think I was so stubborn and independent that it was hard for me to allow others to nurture my tender pieces. When someone did offer up their kindness, I took it, but I kept it at bay, never really allowing the connection to feel rich.
photo by ali edwards
All of that changed when my heart cracked open with the traumatic birth of my beautiful son, True. I deeply suffered for the first several weeks following his birth and my life depended on being nurtured in ways that I would never allow before. All of the sudden, receiving kindness meant something else entirely to me. For the first time in my life, I finally felt the expansiveness of true gratitude. It felt simple, yet profound. It felt deeply precious inside an everyday moment. It felt like life, like I was being given breath. I wrote a bit about this on my blog awhile back, and what I'm continue to learn is what a good friend told me years ago: we simply cannot be armored and connected at the same time.
For me, my son's birth forced all my armor to fall away. And with the unearthing, came an exposed heart that could feel the intensity of what it meant to be seen, loved, and cared for. I had never needed so much TLC and nurturing in all my life, and I was finally able to simply take it, to receive it, to really step into the gift of accepting the gifts of others in the spirit in which it was all offered. And it was all offered in the spirit of kindness.
photo by tracey clark
So, back to those Oprah tickets. A couple of weeks ago, just as my heart and body were starting to really heal from these last 4 months of soul work, I received an email. It was from a woman who wanted to reach out and thank me for sharing my honest stories of new motherhood. She too was a new mama and she too had similar experiences/feelings after the birth of her baby. She shared how she would come to my blog to follow along in my journey, how my mantra of brave in sadness, brave in love also became her mantra during those tough early days. She thanked me for the blessing and comfort I gave to her as she traveled her own journey. As I was reading her email, I felt my heart swell up with gratitude and connection. I recognized myself in her words and I felt deeply seen, understood, and grateful for her email. At the end of her letter, she offered up two tickets to the Oprah show. She knew I was a fan, that I needed a little fun, and it just so happened that she had two tickets to offer up. Just like that, she was making one of my biggest dreams come true.
And that's when I fell out of my chair, when I started to cry. What a gift. So, in just a few days I'll be heading to Chicago with my best friend for a much needed girls weekend complete with spa treatments, a fancy hotel, uninterrupted sleep, and two tickets to see my hero, Oprah Winfrey. I am so grateful.
("she could hardly believe all that was waiting when she finally opened her heart" – I painted this piece after True was born and when I was learning the gifts of gratitude and receiving.)
What I'm learning, more than ever, is that the spirit of which kindness is offered is the beginning of a connection. To fully honor that kindness, we have to be willing to let our armor go and close the connection by really allowing ourselves to receive with our cracked open hearts. Because when our hearts are open or cracked, there is room for love and kindness to rush in. Because kindness has the power to transform and heal. Because in the end, we are so worthy of every bit of kindness extended our way. Let's celebrate it, acknowledge it, and open up our lives toward its direction.
The world needs more kindness. And the world needs for us to really feel it.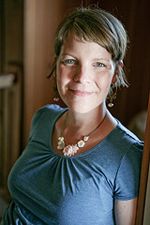 photo by tracey clark
Kelly is the author of Taking Flight: Inspiration + Techniques to Give Your Creative Spirit Wings, a best selling book that encompasses all aspects of what it means to live the creative life. She is also the author of Flying Lessons: Tips + Tricks to Help Your Creative Biz Soar – a series of popular e-books where she shares everything she knows about how she got to where she is now. Her work has been featured in a variety of mixed media books by her peers and she's had several articles published in various magazines, including Cloth Paper Scissors, Somerset Life, Somerset Studios (her artwork was on the 03/2010 cover!), Where Women Create, Memory Makers, and more. Much of her artwork is licensed and can be seen in stores nationwide on a variety of products, including decorative wall art, magnets, sculptures, and so much more.