Hello Lovelies! I am buzzing over here about sharing Aimee of Artsyville's art & story with you today. I absolutely adore her work! I was so stoked when she agreed to doodle for Kind Over Matter (see below!) Isn't it awesome!? You can get one of your very own in her shop in either a 5×7 print or on a magnet (which I may or may not have ordered this morning along with a couple others!) I was just musing on the theme of her post last week too, because it snowed here & I left a little "love letter" in the snow to Kurt as a surprise for him to find when he went out to shovel. Also, my parents were here for dinner this weekend & my dad is a chocolate lover (like me!), so I left a little chocolate in his coat pocket for him to find later. I truly believe that the little things in life make all the difference in the world. Thank you so much for sharing your doodle & story with us, Aimee! Big Love & Peace to all of you, xox, Amanda

art by Aimee Myers Dolich
Little Sparks of Kindness
I love little surprises. They brighten my day more than almost anything else. Big surprises are lovely too, of course, but it is the unexpected spark of kindness that stops me in my tracks and makes me think: "Wow. Someone thought of me, and re-routed part of their day to do this."
Little sparks of kindness come from my family: Notes from my husband welcoming me home for the weekend in the days when I traveled full time for work. Breakfast made for the girls and cleaned up while I sleep in on a Saturday morning. Three fun size Butterfingers hidden under a hat on my art desk after I talked into the air about how much I loved Butterfingers, not knowing that a pair of 8 year old ears were listening. A squishy hug from my 4 year old lovebug, for no obvious reason. Kiddie drawings made and abandoned around the household. Cards and calls from my parents and my grandmother, who have never missed a birthday or a holiday in my nearly 40 years here.
Little sparks of kindness come from my friends: Yummy dishes brought to us after our children were born, at a time when I was so sleep deprived I didn't know my elbow from my knee. My daughter's discarded hats, mittens and coats on the sidewalk, retrieved and returned regularly and faithfully by a friend who walks the same route that we do. A text wishing me good luck on the morning of my art show last week. A call a few hours later, after I had been on my feet for four hours: "We're bringing you lunch." An invitation to my first art retreat. Little gifts left on the front porch.
Little sparks of kindness come from people I've never met. A Starbucks gift card in my PO box from an art pal, just because. A personal note from a customer, telling me how she found my shop and why she chose a particular piece. Packages from other artists and creative friends, stuffed with goodies for me and my girls. Postcards. Mail art. Wonderful little gestures that leave me beaming far longer than the moment of the initial thrill.
Then I wonder: do I do enough in return? And really, sadly, truly, I don't think I do. I get caught up in grand ideas of Big Things I'd love to do for others, and then I rarely get around to doing them, because they seem so, well, big. They need planning, resources, time. But the smaller opportunities for kindness are right there in front of me, waiting to be done, and the little moments of my days are right there, waiting to be spent on them.
Amanda herself did me a kindness by asking me to write and doodle this post. It prodded me to reflect on the type of kindness that brings me happiness, and made me realize that's the way I enjoy giving the most, too – one small dose at a time. It doesn't have to cost a fortune, and it doesn't have to move the earth or sun. It doesn't even have to put a colossal burst of sunshine in someone's day. Even if the spark of kindness illuminates just one moment, it still creates a light that wasn't there before.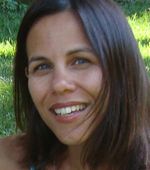 Aimee is an artist whose favorite materials are words, color, and bits of life. Please swing by her blog or shop and say hello anytime!