Guest post by Tara Gentile of Scoutie Girl.

For the Awesome Entrepreneur in Your Life
one. Every entrepreneur needs a good calendar – even if we don't always use them. I love PAWLING's line drawings so this one is a no brainer.
two. This gigantic MimsMaine bag has lots of pockets & is designed to be worn 3 ways! It even has a special spot for your iPad – my must have device of the year.
three. Speaking of iPads, this sleeve from Byrd & Belle is sleek & modern – but also a little bit cozy.
four. 52 MORE Weeks of Blogging Your Passion is a great way to jump starting your blogging. You'll find new ways to consider old ideas, engage your readers, and create greater influence for your business.
five. Wow your gift-ee with a set of custom letterpress business cards. It's hard not to feel successful when you're handing those bad boys out. I like these from rubypress.
six. A yoga class makes a great gift for an entrepreneur who's in need of a wind down after the holidays. Eliza from Art Asana has a whole shop of yoga inspired art that would make a great match with a gift certificate.
seven. If your entrepreneur tends to the chillier side, fingerless gloves make a great gift. Type, take pictures, sew, you name it – you can do it in fingerless gloves. I love Xmittens because they're funky and functional.
eight. Make sure your entrepreneur remembers to talk in her millionaire voice. It's an oft forgotten but oh-so-important step for business success. I let blocky remind me. Maybe he'd work for you're giftee too. Find him a drywell.
nine. Okay, this one's just for me – and the other web designer on your list. Let her know you care with this simple expression of affection: You are the CSS to my HTML. It's like peanut butter & jelly – only with code.
ten. Entrepreneurs – at least the home office kind – spend a lot of time in drafty rooms with only socks between their tootsies & the chill of winter. Spare them the pain of having to put shoes on by springing for a pair of hand-felted slippers like these from ing00te.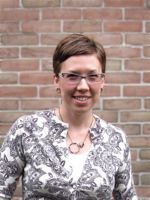 Tara Gentile empowers people to live more creatively and change the world with their money on Scoutie Girl. Learn more about moving from inaction to accomplishment with her free Creating Action ecourse.