You all know Melissa from Operation NICE, an amazing project that promotes being nice & kind — which made asking Melissa to take part in Kind Kindred a no-brainer. She's seriously the sweetest person & Amanda & I are so excited about her Kindred post, I'm bouncing around in my chair right now, that's how excited I am. Happy Monday, everyone. Peace to you, always. – Jenn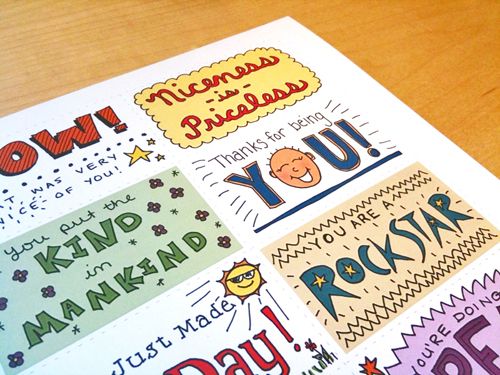 I'm lazy. Incredibly lazy. And I regrettably admit it. My motivation is lacking to the point where I take a three hour nap pretty much every weekend. Sometimes both Saturday AND Sunday. *sigh* I should come home from work and sketch or read or plan my blog posts for the next few days. But instead, I sit my lethargic butt on the sofa and watch television. Thank goodness I married a neat freak or I'd constantly be surrounded by insurmountable mounds of laundry.
So what does my sloth have to do with kindness?
On my blog, I preach the importance of being nice. And the main point that I try to drive home is that being nice takes MINIMAL effort. Being nice doesn't mean you have to volunteer 80 hours a week. Although sure, that's great. And being nice doesn't mean you have to donate half your salary to charity. But that would be super too. A nice gesture is as simple as holding a door, saying hello, sending a "thank you" card, giving a hug, complimenting a person's outfit….you get the picture.
If we all made a conscious decision to do these small things more often, we'd be a much happier (or at least less crabby) generation. You know that feeling you get when someone does something nice for you? Well, don't you get a similar feeling when YOU do something nice for someone else? Performing a kind gesture is rewarding in and of itself! So go get rewarded!
I overcame my desire to go to bed at 8pm and decided to doodle a little bit, especially for you. Yes, you're welcome. I made this sheet of ten Kind Cards that you can carry with you and hand out to deserving citizens. Maybe your barista slipped you an extra shot for free? How about a card that says "You just made my day!" See a mom who might be struggling with her crying child? She could use a "You're doing a GREAT job!" card. And my personal fave, if you know someone who's going through a little rough patch, the "You can do it!!" card works wonders.
These cards are a cheap and easy way to be nice, maybe for someone like myself who might not have the time or energy to organize flash mobs of kindness. They are so simple, in fact, that you can print them out on Avery business card sheets, so you don't even have to pick up a pair of scissors!
So take it from a lackadaisical expert, being nice is a breeze. If I can do it, you can do it!

Melissa Morris Ivone is a Philadelphia-area graphic designer with a strong love for retractable erasers, Apple products, and hot fudge brownie sundaes. She began the blog Operation NICE in July 2008 when a stranger's nice gesture made her realize that the world would be a better place if we were all a bit kinder. Operation NICE encourages individuals to be proactively nice. In addition to promoting kindness, Melissa is an excellent procrastinator when it comes to her other favorite hobbies, drawing & crafting yet never procrastinates when it comes to a good afternoon nap.