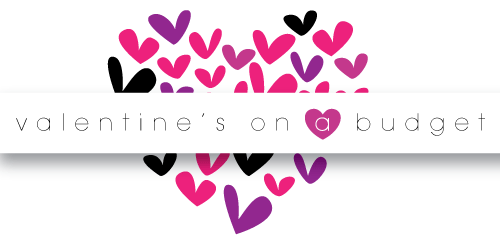 Today's Guest Blogger is from Lee at Strawberries & Champagne! She created this amazing tutorial for us to make that special someone's heart skip a beat! A whole day of Valentine fun for your & your sweetie! Lee, our hearts are skipping over here, you are incredible, thank you!
Connect with Lee:
:: Blog :: Website :: Twitter ::
While Valentine's Day is a great excuse for spending time with your loved one and going out for a delicious meal, it also comes at the time of year when you have no money, just after Christmas. Those credit card bills came in during January leaving you with little funds for a fun night out.
But, don't worry, this doesn't have to be a problem. Follow my tips for a budget-friendly amazing Valentine's evening.
Colour Palette
This colour palette is bright and eye-catching, but is quite generic and so would be perfect for a male or female recipient!
The Free Printables
Card
Print out this card onto a sheet of 8.5″ x 11″ heavy weight paper and cut to size. Write inside you message to your lover and tie up with a pink bow (no need for an envelope). Give this to your partner on Valentine's morning as a taster of the night to come.

download:
Valentine Card – PDF
Menu
Prop this menu up beside your lovers breakfast in bed to give them a hint to the night ahead.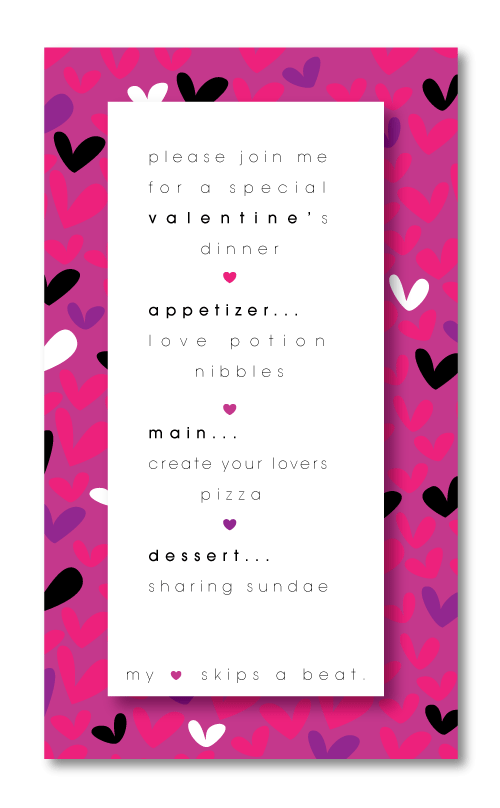 download:
Valentine Menu – PDF
'My Heart Skips a Beat When…' Letter
We know our partners love us, but how often do we say it to one another. Give them this letter and ask them to write 10 things they love about you and you do the same, put it on your plate at the beginning of the evening. This is a great opportunity to share some things we love about one another, kicking the evening off to a great start.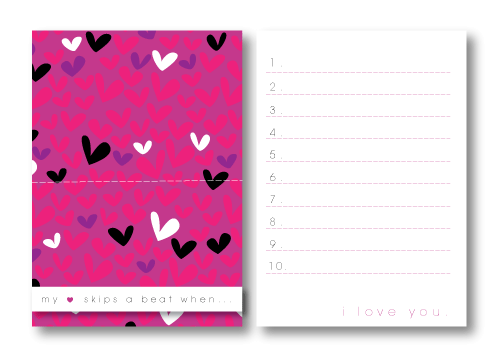 download:
Valentine Letter – PDF
Table Setting
Don't worry too much about a beautiful table setting. Remember this is an intimate evening for you and your loved one. A large centre piece will prevent you from getting close to one another, think of a table setting where you can still reach over and hold one another's hands.
As were are on a budget for this night, a trip to the dollar store is definitely on the cards. Pick out some hot pink napkins, some simple pink confetti hearts and a pack of tea lights. Honestly, that is all you need to make this night perfect.
Setting the Table
1. Place a dinner plate onto the table and set a pink napkin onto it, if you have a white dinner service, use this, if not go with whatever you already have. Put a smaller plate over the top. This way you can use the smaller plate for your appetizer and the larger plate for your main.
2. Wrap a knife and fork in another pink napkin and place next to your plates.
3. Scatter confetti hearts around the table.
4. Place tea lights around the table in places that will work best for you. Make sure they won't get in the way or get knocked over whilst you are eating.
5. Place your completed 'My heart skips a beat when…' letters onto one another's plate.
The Meal
If you are having a relaxed Valentine's meal at home, you don't want something too fancy. What's the point of a nice meal at home if one of you is stuck in the kitchen all night. Remember, this is an evening for both of you, the more time you can spend together, both cooking and eating, the better!
Appetizer
Cupid's Cocktail – Let's start the evening off with a nice cocktail, this will encourage you both to relax and adds a special touch to the evening. Before you start the main course put out a few nibbles onto the centre of the table and chat for a while as you read your 'my heart skips a beat when' letters.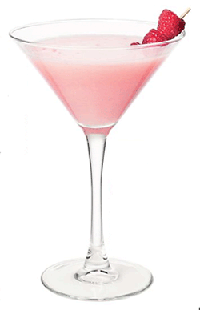 (Image from 21 Plus Magazine)
Ingredients
1oz Vodka
1oz Amaretto
1oz Peach Liqueur
1oz Fresh Orange Juice
1oz Cranberry Juice
Mix Vodka, Amaretto, Peach Liqueur, Orange Juice and Cranberry Juice in a shaker, shake and pour over ice. Garnish with a fresh strawberry.
(Recipe from Fine Living)
Main Course
Create Your Lover's Pizza – this is something a little different. As you sip on your cocktails you can have some fun making a pizza for each other.

(Image from Meals from the Girl in the Little Black Dress)
For the base of the pizza I have found it is most successful to visit your local Pizza place and ask them for some uncooked pizza dough. In the past I have got enough for around 4 large pizzas for around $6 so this is a really cheap option, and you can ensure the pizza dough is perfect this way. Get a selection of toppings, take a look at the clearance section on the deli counter in the supermarket for good offers on meats and cheeses. Instead of making your own pizza, make one for your loved one. Shape the dough into a heart and put a secret message onto it using the toppings.
Roll out and pre cook the dough for approximately 7-10 minutes before you add the toppings, then cook through until the cheese starts to brown.
Dessert
Sharing Sundae – Dessert should almost definitely be shared. Buy a large tub of ice cream and some brownies cake treats, fresh strawberries and cheap toppings (there will still be some good offers on in the supermarket from Christmas time on the baking aisle). Mix everything up in a large bowl and feed each other delicious spoonfuls of ice cream.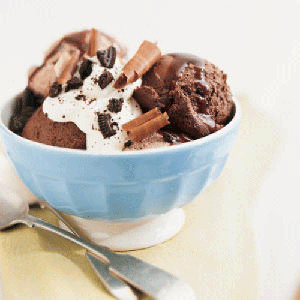 (Image from Sunset)
I hope you enjoy this romantic evening in. Please leave a comment if you do this, it would be great to hear from you!
*Bonus*
Here is a bonus gift wrap, just in case you decide to blow the budget and surprise that special someone with a gift on Valentine's day!

download:
Valentine Wrap_8.5×11 – PDF
Valentine Wrap_11x17 – PDF
Enjoy!
Lee