Oh do we have a treat for you, dear readers! We are featuring Guest Bloggers throughout this week & next! Beautiful Guest Bloggers with A-MAZING tutorials to share with you! Today's tutorial is a doozy!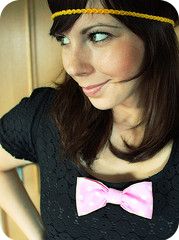 Meet the lovely Katja – Katja lives in Aurich, Germany & runs an awesome blog called, maedchenmitherz (which means "girlwithheart") alongside her adorable etsy shop! She is also giving an online tutorial class right now called, Heavenly Cute which is featuring 20 heavenly cute projects! Big Love to you Ms. Katja for making & sharing this rockin' tutorial with our readers! Thank you!
Connect with Katja here:
:: Blog :: Etsy Shop :: Twitter :: Flickr ::
1. To make this cute polaroid pillowcase, you will need:
– fabric in a color of your choice (it should be long & wide enough to be turned into a pillowcase)
– download the Pattern for the Polaroid Pockets – PDF file
– white felt
– embroidery thread
– a pillow you want to cover
– scissors & sewing machine
2. First, print & cut out the polaroid pattern
3. Trace onto white felt
4. Cut out as many pockets as you want to have!
5. Stitch what ever you'd like onto them. (I chose YOU & ME, since it's Valentine's Day soon!)
6. You should already have in mind which photos you would love to plug into your pockets. Cut them to the size you will need.
7. Now, take your fabric & start sewing a very simple pillowcase.
Here are three great tutorials on how: ONE – TWO – THREE
I made mine wrapping the fabric around the pillow & then I marked the lines with pins.
8 – 11. Sew the pillowcase together, so there's an opening on the back to insert the pillow.
12 – 14. When your pillowcase is finished, take your polaroid pockets & to make them a little bit more stable, sew along the inner lines (where the picture is displayed) & along the top line using a Zig Zag stitch! Then sew the pockets onto the case. Be careful only sew along the both sides & the bottom of your pocket. It needs to have an open top so you can plug in photos!
Now, simply insert the pillow into the case & show it some love! 🙂
Thank you for reading & happy crafting!
Katja